There are lots of ways; most importantly you need up-to-date information on exchange rates and fees. When you use BestExchangeRates you can see clearly which currency vendor is offering the best deal for your International Money Transfers and Travel Money needs, and most importantly who is taking the smallest margin and fees to give you the largest possible converted amount.

How to Compare International Money Transfers
Total Margin = Exchange Rate Margin plus Fees
Both banks and currency exchange providers apply a margin to the mid-rate you see on the news each night, the mid-rate is what it costs large banks and currency brokers to buy and sell foreign exchange.
On top of this exchange rate margin they generally also apply fees and commisssions, all these add up to your Total Margin.
For transfers you should avoid paying a Total Margin any where above 1.5 per cent (of the amount being transferred) for major currencies (USD, EUR, AUD, GBP, CAD, NZD, CHF etc) and 2 to 3 per cent for all other currencies.
Using your Bank's exchange rates services (both via online banking and in bank branches) can be very expensive – often 5% to 6% worse than you can get by using a BER partner specialist Foreign Exchange provider for your transfer.
Our Foreign Transfer Currency Calculator makes it easy to figure out what is the margin you are paying by highlighting the total percentage margin from both the exchange rate margin and extra fees and commissions.

Total Margins Highlighted
These providers deal directly with the currency markets which means they can offer highly competitive exchange rates on all major currencies, they can better the rates offered by banks by 3% and often even more – for a $10,000 transfer you would save $300.
They can also offer you advice on timing your transaction and also provide in-depth research and online tools so that you obtain the best possible exchange rate. Opening an account with the Foreign exchange provider is quick, simple and completely free.
Compare Foreign Transfer Exchange Rates
How to Compare Travel Money Rates and Fees
Pay fewer fees and avoid common traps when you're buying Travel Money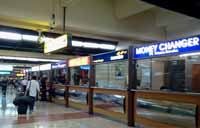 Some companies will charge commission for carrying out the foreign exchange. This comes in three forms:
Minimum charges – which can be expensive if you're only exchanging small amounts of money.
Flat fees – which can actually be good value because they don't change, even if you're exchanging large sums of money.
Handling fees – which are what the currency seller charges for its exchange services.
Compare Travel Money Exchange Rates
Some currency sellers advertise commission-free foreign exchange, but while this may sound like a good deal, be aware they could be making up for the loss of commission with higher exchange rates. As a result, this could actually be more expensive than if you'd just paid commission.
The BER travel money rate & fee calculator is programmed with these various fee models to make it easy for you to find the best deal for your particular foreign exchange needs.
Compare Exchange Rates and Fees for:
Sending Foreign Transfers Buy Travel Money Pre-paid Travel Cards