We take a look at CBA's foreign exchange exchange rates including International Money Transfers, Travel Money and Pre-paid Travel Card. We explain how-to calculate with CBA's rates plus consider customer ratings to help you decide if CBA is the best option for your FX.
How does Commonwealth Bank Foreign Exchange Compare?
---
Exchange rates can make all the difference for travellers leaving Australia to spend their holidays in a foreign country. The amount of money you will have to be able to spend during your holiday will be determined by the currency exchange rate at the precise moment that you make the exchange, which makes it important to get the timing right in order to be able to enjoy more expensive meals and events, or even a more luxurious hotel or flight class.
The Commonwealth Bank of Australia offers exchange rates services, but are they any good and how do they compare with other services that are available to travellers?
The Main Points:
CBA provides extensive foreign exchange services
Products available both in-branch and online via their online banking platform netbank
CBA exchange rates for foreign transfers are generally poor compared to using an FX specialist
Comm-Bank exchange rates for travel money are comparable to those of the other Australian banks but somewhat less than those available by ordering your foreign currency and travel money online through providers such as Travelex.
Their average to poor exchange rates need to be weighed up against ease of use.
On occasion CBA can offer very good rates.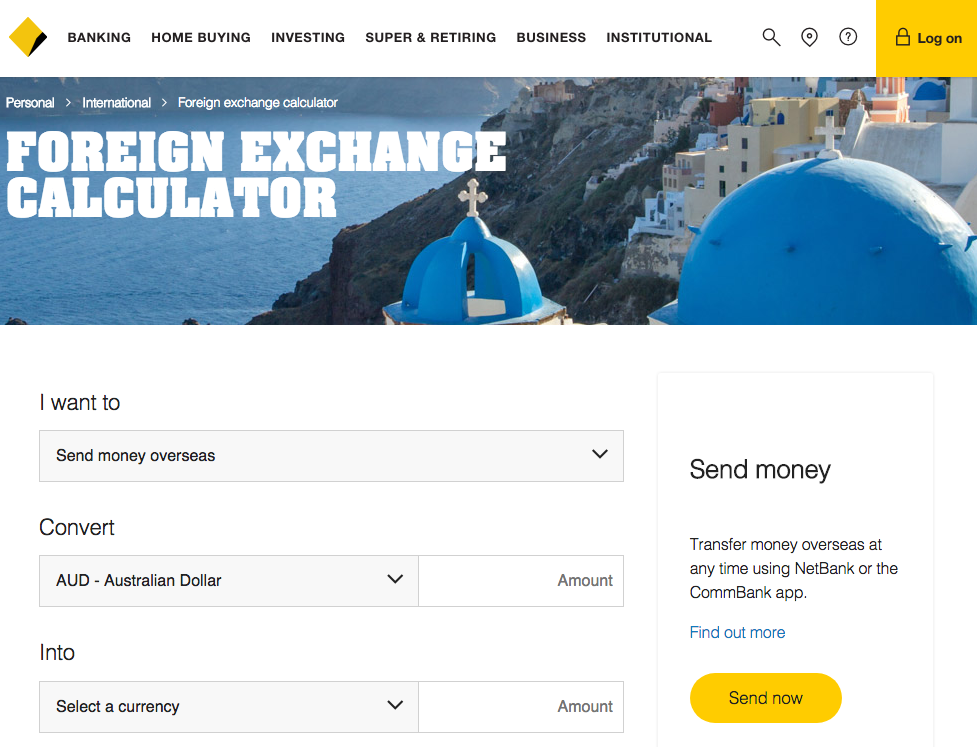 Many people like to look around at various options in regards to exchange rates in order to get the most money from the exchange. The Commonwealth Bank of Australia offers an extensive range of foreign exchange services is used by many people to exchange their money into a different currency, or vice versa, for the simple reason that it offers convenient, easy and fast services of currency exchange, and does so either in the branch or online or even with the use of a smartphone app.
However using the Commonwealth Bank of Australia for such a task is not recommended as their exchange rates for overseas transfers are often poor; particularly in comparison to those that are available from an FX specialist. Travel money exchange rates offered by the Commonwealth Bank are usually of a similar ilk to those of other Australian banks, but are still somewhat lacking when compared against the travel and money and foreign currency that can be found online from providers including Travelex. One point in favour of the Commonwealth Bank is how easy they are to actually use, but this advantage needs to be carefully weighed against the financial disadvantage of their average or even poor exchange rates.
---
Commbank Exchange Rates Explained - Foreign Transfers, Holiday Money & Travel Cards
---
The latest foreign exchange rates can always be checked on the Commonwealth Bank website, which displays the exchange rates currently being offered by the bank when transferring Australian money into overseas cash or money cards. The Commonwealth Bank website can also help travellers to learn the nature of the currency they will require for the nation they intend to holiday in.
How to look at the CBA exchange rate table
It is important to be aware of the manner in which exchange rates are calculated in order to determine their worth when compared to those offered by other providers. There are three crucial factors to this determination:
The product you intend to use, International Transfers, Travel Money or Travel Cards
The applicable currency
Whether you intend to purchase or sell in that currency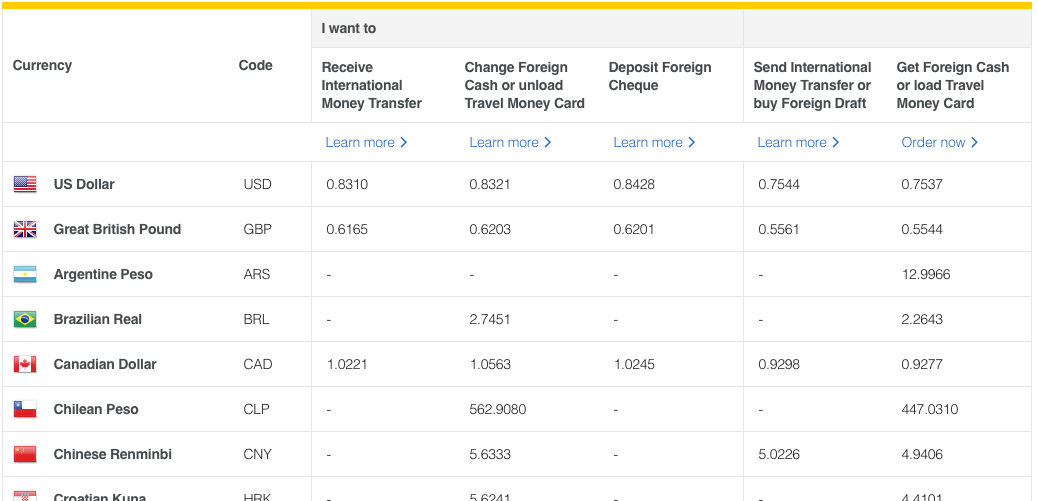 Which Exchange Rate applies to you?
The exchange rate that applies to you is decided by the product you are required to use in your particular transaction. Those wanting to receive or send money electronically will need to make use of the column for either Send International Money Transfer or Receive International Transfer to see the relevant exchange rate. Get Foreign Cash or Change Foreign Cash would be used by travellers wanting to swap currencies prior to an overseas trip, while either Load Money Travel Card or Unload Travel Money Card are the columns you would use in regards to transactions made with a Travel Card.
After selecting the appropriate column the next step is simply to scan across to the applicable row for the currency in the foreign country you will be visiting. If uncertain, this can be determined with the use of FX country guides. Make certain you are using the right column for Buying and Selling, as the currency rates can be markedly different for each.
You can use our CBA calculator tool to simplify this process.
---
Calculating your foreign exchange conversion amounts
---
Calculating foreign exchange conversion can never be an exact science as it is dependent on a variety of facts including the product chosen and intermediary banks that may be employed by the Commonwealth Bank.
Example Calculations: Buying Travel Money and Sending Money Abroad
After you have found an exchange rate that you are actually happy with, the next step is to work out the currency conversion, but this calculation can vary quite markedly depending on the particular situation that you are in. If you are travelling to an overseas country and want to know the amount of local currency you can get for your hard earned Australian cash, then the amount of Australian dollars you wish to convert needs to be multiplied by the figure given in the exchange rate. If you are intending to purchase some foreign currency, then you need to know the precise amount you hope to buy and divide that by the exchange rate to get the cost of that exchange in Australian dollars.
This calculation is exactly the same if you want to send money to a foreign country. Note these calculation for sending or receiving foreign currency transfers can be further complicated when receiving/intermediary fees are charged by the receiving bank or any intermediary banks.
Example Calculations: Receiving Money from Abroad
Those who are more interested in getting currency from a foreign country need to divide the figure of the foreign currency they receive by the exchange rate in order to get the figure for the amount of Australian dollars they will end up with. The process of comparing exchange rates from different institutions can seem quite overwhelming or complex but in truth it is not that difficult. Many people become overwhelmed by the displays of tables listing all of the various exchange rates on the Commonwealth Bank site as well as those by other financial institutions, but all customers need to concern themselves with is the rate of exchange for the country which uses the currency they intend to exchange with (a number of nations such as the likes of Germany, Spain, France and Italy will be covered simply by the Euro. Those wanting to sell currency or who are travelling overseas need to look at the columns under the Bank Sells heading, and then choose the form of transfer that is applicable to them to see the current rate of exchange.
For other examples and product types you can quickly calculate the amounts and rates that apply by using our quick and easy CBA foreign transfer currency converter
---
Commonwealth Bank - User Ratings and Feedback
---
CBA has a BER Rating of 2/5 from 21 user ratings. The below star review table make it easy to browse customer feedback from BER users so you can get an overall feeling for customer satisfaction with Commonwealth Bank ... the good and the bad!

Good INR rates
Aug 29, 2012
I don't agree with the some of the below comments, well at least not for Indian Rupee. I use CBA to send money home to India and the rate is much better than the other banks…generally with a margin of just over 1% which is pretty good.

Vietnamese Dong
May 27, 2014
CBA have the best Vietnamese Dong VND rates of all the banks, I know cos I have a internet cafe business in Hanoi's old quarter, so changing cash and sending money back and forth very often.

ok for small amounts
Oct 20, 2014
Given the convenience on online banking, CBA is okay if transferring small amounts overseas as a lot of FX's won't do small transfers.

reconverting
Feb 11, 2013
Terrible rates especially reconverting foreign currency (US dollars) back to Aust dollars. Current official exchange rate is apprx $1.03, CBA buy back at $1.0819, over 5 cents in every dollar and that is after selling at apprx $0.99. They are making about 7% if you buy from and sell back to CBA. Utterly outrageous@!!!

double dipping
May 15, 2014
Concerned that the CBA doesn't offer good customers better rates as their exchange rate is lower and they hit with commission as well double dipping.

no worse than other banks
Jan 6, 2015
CBA Is no worse than all the other retail banks who are equally woeful on margin. Considering there is no cash involved for travel cards for example, 6%+ on all of them is dreadful. Oz Forex (Macquarie) @ 3% kicks their backside and best of all the rates are intra-day, on-demand. Been watching CAD for last 10 days off the Xmas bottom and consistently getting up to 3 big figures better with Oz over the retails e.g. 0.936251 in the last hour versus 0.9074, that's $30 per $1000 and its better off in your pocket!

guide only
Apr 25, 2015
CBA state their exchange rate on website is a "guide only" but it's way off the mark and is false advertising. Disgraceful.

Aug 2, 2012
Terrible rates, nuff said

Aug 21, 2012
I concur. Extremely terrible rates

1 Star
Feb 11, 2013
Now an $8 service fee. On top of terrible rates.

care factor?
May 28, 2013
Looking at your comments I agree but Do you really think that any bank cares?

commission
May 31, 2013
I used to transfer money to ukraine through this function because of the convenience but no longer. I cop the 7% fee plus 50.00 commission from other transfer banks like Deutsche.

worst exchange rates
Sep 28, 2014
some of the worst exchange rates of any of the available options.

reputation
Oct 9, 2013
This bank just doesn't care anymore about its reputation – all it is after is profit – I say if you belong to this bank – close your account today!!!!!!

exorbitant
Nov 30, 2014
Terrible xchange rates and constantly hit with exorbitant fees when using any of their products/cards overseas

title
May 28, 2013
Very Unhappy. The focus is as usual on profit, do it yourself and pay a transfer fee as well as enjoying a poor exchange rate.
Transferring money to NZ – NZ$1200 cost me AUD $1212.86 at a rate of 0.9894 + AUD $22.00 transfer fee. The Ausforex rate was 1.0384. That's who I will be using in future. Not sure how this rating system works? is the first button good or bad?

disgraceful
May 14, 2015
Exchange rates from the CBA is what its call highway robbery !! It is disgraceful an appealing that the CBA can get away with those exchange rates !! I will exit this institution as soon as I get back from my holiday trip to Europe in June.

title
May 28, 2013

title
Jun 1, 2016
I love the way that Com bank screws everything and everyone associated with it. The passive aggressive phone tress – the surprise shockers, the intrusive Netbank bullshit.
I'm trying to relocate back to NZ – I transferred $500 + $22 AUD up front fee from Com bank to my NZ bank account. I got $500.32 in my NZ bank account. WTF com bank? So the $22 was a fee, and the intra bank flat fee from ANZ – for the foreign exchange was $30 fee that was taken out of the inital AUD $500, so I was moving $470 – and the $500.32 was the result. NZ bank didn't charge anything or created any dramas it was just a deposit.
Com bank like to think they are "customer service" orientated. They give you stupid millennials that have no customer service skills and a computer screen as their banking service. They are the worst bank I've ever had the misfortune of dealing with. Go anywhere but Com bank.

travel card scam
Aug 31, 2016
I just come back from Europe with a balance of some $4000 which are in Euros. When I wanted to transfer the travel card money to my account the bank wanted to give me only 1.375516 AU for every Euro. That is highway robbery. They are double dipping big time. Our politicians should investigate this scam as that is what I feel it is. They are robbing us blind and they do it all legally with the help from the political masters in Canberra.
Yes Mr. MP Turnball what are you going to do? Give us a load of excuses and sweep it under the carpet, that is what you seem to be great at.

bad
Oct 15, 2016
Absolutely disgraceful bank, the worst of a very bad bunch of thieves.
---
Comparing CBA exchange rates to the market
---
BER offers comparison tools for exchange rates that allow customers to easily compare the exchange rates offered by the Commonwealth Bank to those of other financial institutions as well as FX specialists. Comm-Bank Foreign Transfer and Comm-Bank Travel Money rates can be quickly compared with others on those pages. To get the latest information on currency news, special offers and up to date exchange rates, subscribe to the BER Smart FX newsletter today.
CBA transfers compared
CBA travel money compared
Use our above CBA exchange rate comparison tools that make it easy to compare CBA exchange rates to other banks and FX specialists. Quickly calculate how much you could save on your next foreign transfer or travel money purchase.