Commonwealth Bank Exchange Rates – Are you getting a good deal?
In this article we take a look at Commonwealth Bank Exchange Rates and examine how Commonwealth bank exchange rates & international money transfer services compare to other options available to you. If you are a CBA customer and looking to send money overseas through an International Money Transfer (IMT) or get some travel money, read on to:
---
How does Commonwealth Bank Foreign Exchange Rates Compare?
The live tables below will give you an indication of how Commonwealth Bank exchange rates compare to an alternative FX provider.


Sending $AUD 10K with CBA vs FX Providers


At the time of writing (16/04/18), the exchange rate margin that CBA was showing for Foreign Transfers was 5.26%. The margin indicates the amount above the mid-rate (i.e. the rate at which the banks interchange with each other). The cheapest alternative for Foreign Transfers (OFX) at the time of writing was showing a margin of 1.52%, meaning if you had changed $10,000 for EUR with OFX, you would have received EUR236 more than if you had made the exchange with CBA.

So, what about the other Commonwealth bank exchange rates services? Are they so much better that it makes the higher cost of transfer worth while? The key benefit that CBA offers to existing customers, is the knowledge that you are transferring with a familiar brand. They already have all your details so there will be no need to complete any additional forms or undergo any further customer verification or security checks. With that in mind, if you are making a one-off international money transfer, where the amount to be exchanged is sufficiently low for the difference in cost to be acceptable to you, then going with Commonwealth bank exchange rates services could be the way to go for you.

If, however, you will be making regular international money transfers, then securing the lowest exchange rate, will be more critical. The FX specialists that we list on our site are registered and regulated organisations with a strong history of servicing the Foreign transfer and Travel money market.

The Main Points:
CBA provides extensive foreign exchange services, FX Specialists provide more additional services and generally speaking a higher level of expertise;
CBA products are available both in-branch and online via their online banking platform NetBank. FX Specialists for foreign transfers are on-line but you can speak to them on the phone, and in some cases you will have an account manager;
Commonwealth Bank exchange rates for foreign transfers are generally poor compared to using an FX specialist.
Commonwealth Bank exchange rates for travel money are comparable to those of the other Australian banks but you will, more likely than not, get less for your dollar than if you ordered your foreign currency and travel money online through providers such as Travelex.
Average to poor exchange rates need to be weighed up against convenience of using a familiar internet banking platform.
Commbank Exchange Rates Explained – Foreign Transfers, Holiday Money & Travel Cards
Changing $AUD 2K with CBA vs Ordering Online
If you already bank with CBA, you've probably already taken a look at the currency related products and services they have to offer such as – Travel Money (cash), Travel Cards, and International Money Transfers (IMT).  Below we explain these different options to help you choose which particular product/service would best suit your needs. Firstly, it's important to understand that the exchange rate will depend on a few factors, namely:
The currency you need
Transaction type – whether you wish to buy or sell the currency
The product you're after – Travel Money, a Travel Card or International money transfer
Below is an example of a Commonwealth Bank exchange rate table.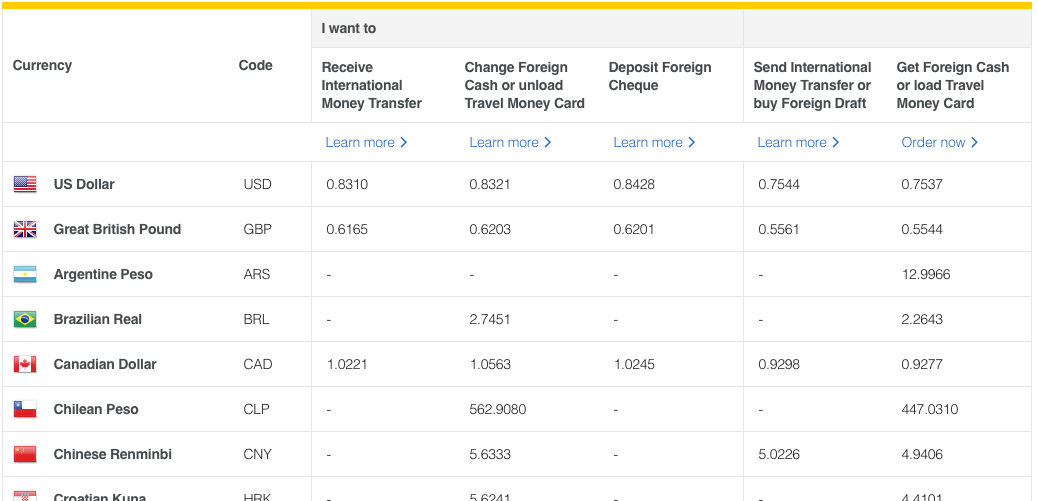 Which Exchange Rate applies to you?
Calculating your foreign exchange conversion amounts
Compare Commonwealth Bank exchange rates with other FX specialists
Finally, it's worth shopping around for the best exchange rate especially if you are travelling for an extended period or exchanging over AUD1000.  There are a multitude of specialist FX organisations that often offer significant savings on your currency exchange.
Related Posts
---
Filed under - Category: Reviews & Ratings Tags: Australia, Banks