In this article we take a look at CBA's foreign exchange services and focus on how their exchange rates compare to other options available to you.  If you are a CBA customer and looking to send money overseas through an International Money Transfer (IMT) or get travel money, read on to:
How does Commonwealth Bank Foreign Exchange Compare?
The Commonwealth Bank of Australia offers exchange rates services, but are they any good and how do they compare with other services that are available to travellers?
The Main Points:
CBA provides extensive foreign exchange services
Products available both in-branch and online via their online banking platform NetBank
CBA exchange rates for foreign transfers are generally poor compared to using an FX specialist.
CommBank exchange rates for travel money are comparable to those of the other Australian banks but you will, more likely than not, get less for your dollar than if you ordered your foreign currency and travel money online through providers such as Travelex.
Average to poor exchange rates need to be weighed up against convenience of using a familiar internet banking platform.
Exchange rates are something that can worry a traveller planning their overseas trip as although credit card facilities, ATMs, are commonly available overseas, it is always wise to carry some petty cash with you for those unforeseen occasions when it's not. Even if you aren't keen on knowing it all in detail, a little awareness of the exchange rates could go a long way in helping you choose the best option – cash, use a travel card or make an international money transfer to pay for an org.anised tour or accommodation cost.
Commbank Exchange Rates Explained – Foreign Transfers, Holiday Money & Travel Cards
If you already bank with CBA, you've probably already taken a look at the currency related products and services they have to offer such as – Travel Money (cash), Travel Cards, and International Money Transfers (IMT).  Below we explain these different options to help you choose which particular product/service would best suit your needs. Firstly, it's important to understand that the exchange rate will depend on a few factors, namely:
The currency you need
Transaction type – whether you wish to buy or sell the currency
The product you're after – Travel Money, a Travel Card or International money transfer
Below is an example of a CBA exchange rate table.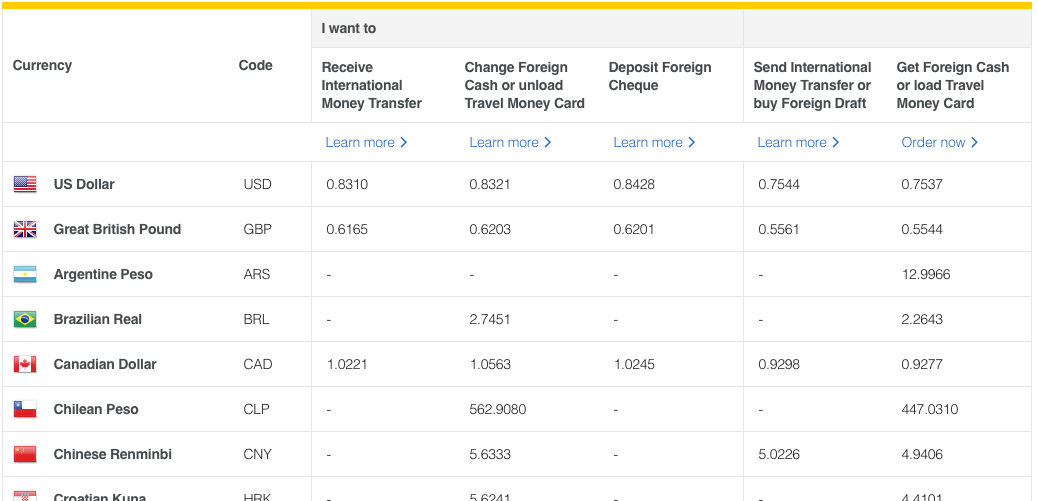 Which Exchange Rate applies to you?
The exchange rate that applies to you is determined by the product you opt for. For example, let's assume you are travelling to the UK and therefore want to buy some British pounds (GBP) in preparation for your trip. Looking at the example Exchange Rate table above, you would refer to the Get Foreign Cash or load Travel Money Card column, which shows the exchange rate you will get from CBA if you ordered online (i.e. buy GBP) as 0.5544 for 1AUD. However, if you had just returned from the UK and were looking to change your GBP back to AUD (i.e. Sell your GBP), you would refer to the Change Foreign Cash or Unload Travel Money Card exchange rate, which offers a different exchange rate of 0.6203 in exchange for 1AUD.  Make certain you are using the right column for Buying and Selling, as the currency rates do vary for each.
Calculating your foreign exchange conversion amounts
Once you've selected your product with the right currency, you can work our your exchange rate from the table. Make sure you use the most current table for the latest rates as the above is only a snapshot in time. The general rule of thumb for calculating is:
convert AUD into foreign currency by multiplying by the rate
convert foreign currency into AUD by dividing by the rate
Remember that you will also need to add on any fees that the bank charges as the conversion amount is usually exclusive of this.
Compare CBA foreign exchange rates with other FX specialists
Finally, it's worth shopping around for the best exchange rate especially if you are travelling for an extended period or exchanging over AUD1000.  There are a multitude of specialist FX organisations that often offer significant savings on your currency exchange.
Use our exchange rate check tools that make it easy to compare
CBA exchange rates to FX specialists.
Quickly calculate how much you could save on your next foreign transfer or travel money purchase.