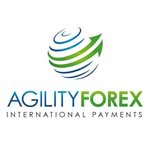 Agility Forex - Review and User Ratings
Considering Agility Forex for Foreign Transfers? Read the BER Review and browse 89 customer ratings to decide whether they are right for you.
---
---
Agility Forex - Reviewed by BestExchangeRates
Agility Forex are a Canadian cross border payment specialist. They are Canadian owned, operated out of Vancouver and are registered with Fintrac, the Canadian government agency that oversees the money transfer industry. They specialize in all things Canadian dollar and aim to provide the best service and best pricing on all Loonie cross rates.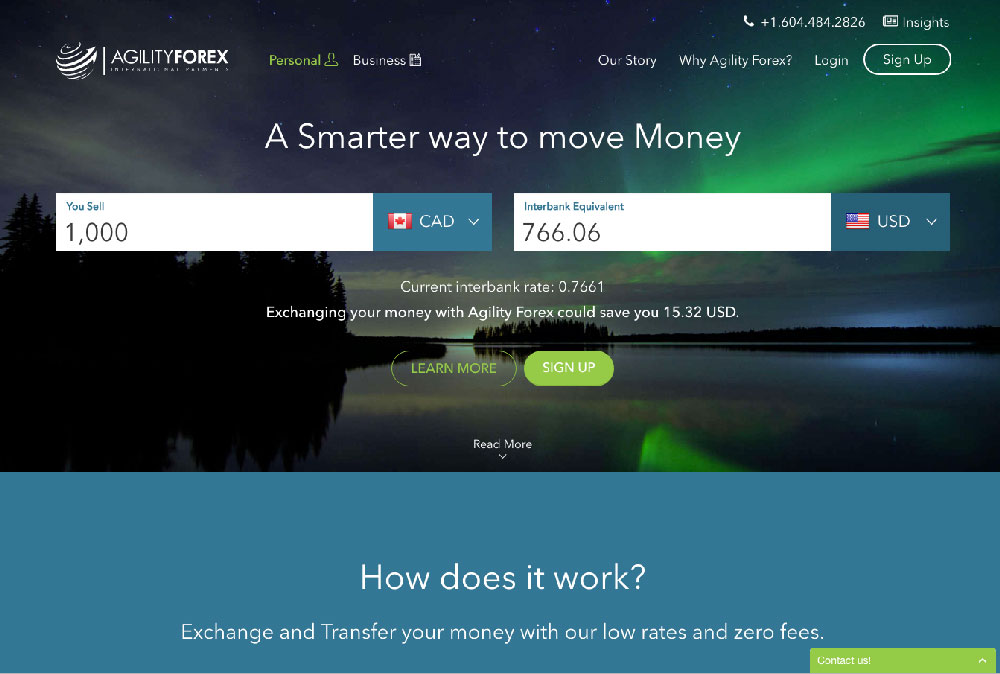 Contact Agility Forex today and inform them you visited BestExchangeRates and they'll guarantee you just that, the Best Exchange Rates when making an international money transfer or payment overseas for both individuals and businesses.
Agility Forex can make you considerable savings against the banks by providing more competitive exchange rates.
Visit Agility Forex for their Best Exchange Rates guarantee.
---
Agility Forex - How it Works and FAQS
International Payments
Agility Forex make the process of sending money overseas easy and painless. Their online platform provides real time pricing with the best rates, with transactions being completed in seconds. Simply add and choose your beneficiary, how much you are sending and what currency you are paying in.
No fees
Agility Forex charge no fees or commissions. Their fully automated systems let you price, transact and securely speed your payments around the World.
Minimum Amounts
Please bear in mind that Agility Forex have minimum transaction amounts, which is generally 5000 of base currency however for USDCAD the minimum is 3000 USD. Agility Forex only deal in electronic funds and can't accept payment in cash or by cheque.
How long does it take
Generally it takes 3-4 days for your funds to reach your beneficiary but this can vary depending on the currencies and countries involved. As a rule, the sooner we receive your funds the sooner we can send the outgoing funds to your beneficiary.
Forwards
If you know you have a currency requirement sometime in the future and are concerned about what the currency rate might do between now and then, you can lock in a rate today for that future requirement. Forwards allow you to take the risk out of future market movements by agreeing the rate you transact at today.
Options
Options are another way to manage your future currency risk. Options can be a good way to manage your downside risk so you know what your worst case scenario is whilst allowing you to benefit from a currency move in your favou
Limit Order
A limit order is an order to buy or sell currency at a pre-determined rate better than what is currently available. When the target level is reached your currency is purchased automatically. Their systems monitor client orders around the clock, 24/7.
Stop Loss Order
A stop loss order is designed to protect your downside. You may have a currency exchange requirement but are waiting for a better rate, a stop loss order will give you piece of mind that you are protected from a sudden large move against you.
Analysis and Market Information
As specialists in foreign exchange Agility Forex live and breathe the currency markets. They monitor news and trends and keep you informed with email updates.
---
---
Agility Forex - User Ratings and Feedback
The below star review table make it easy to browse customer ratings & feedback from both BER users and Trustpilot so you can get an overall feeling for customer satisfaction with Agility Forex ... the good and the bad!
Browse


Instarem user ratings powered by

USD300K transfer
Jan 23, 2015
I just completed my first trade with Agility Forex…….a refreshingly efficient and transparent process. Given the size of the transaction (process was so simple) I was keen to ensure I got the best possible rate and I compared the rate to another non-bank fx provider I have used in the past. Agility beat their quote by a mile…..the whole process was so simple

fast and efficient
Mar 6, 2015
Setting up an account is simple and the platform is easy to navigate. They were fast and efficient with great rates, saving me over $400. Highly recommend them.

question
Nov 10, 2015
Hello I have a 20,000 usd that I need to transfer in cdn dollars,i does it work ?
Nov 11, 2015
Yes, Agility can help you with that but remember it is for bank transfers only not cash or checques. Phone and ask for a test account where you can get quotes but cannot execute a trade. If you think it is worth it, sign up an account. BER Team
---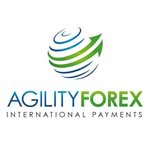 We hope this review and user feedback helped you consider whether Agility Forex is right for you. If you would like to suggest how we could improve this review or if you are already a customer of Agility Forex and would like to leave your own feedback for inclusion you can do so here.