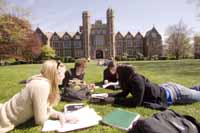 Millions of international students are studying outside their home countries which can be a very expensive business.

So it's important to manage save money where-ever possible and this includes minimising unnecessary foreign exchange costs and fees. By setting up a regular overseas payment with one of our BER partner FX providers in our foreign transfer calculator, you don't have to worry about your transactions every semester.

If you require a specific amount for each payment, benefit from a fixed foreign currency amount regular payment that removes the exchange rate risk.