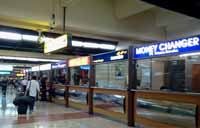 Some companies will charge commission for carrying out the foreign exchange. This comes in three forms:
Minimum charges - which can be expensive if you're only exchanging small amounts of money.
Flat fees - which can actually be good value because they don't change, even if you're exchanging large sums of money.
Handling fees – which are what the currency seller charges for its exchange services.
Some currency sellers advertise commission-free foreign exchange, but while this may sound like a good deal, be aware they could be making up for the loss of commission with higher exchange rates. As a result, this could actually be more expensive than if you'd just paid commission.
If you plan ahead by a few days and Order your Travel Money Online you can get upto 10% better exchange rates probably end up extending your travel budget by a couple of precious days.
The below travel money rate & fee calculator is programmed with these various fee models to make it easy for you to find the best deal for your particular foreign exchange needs.