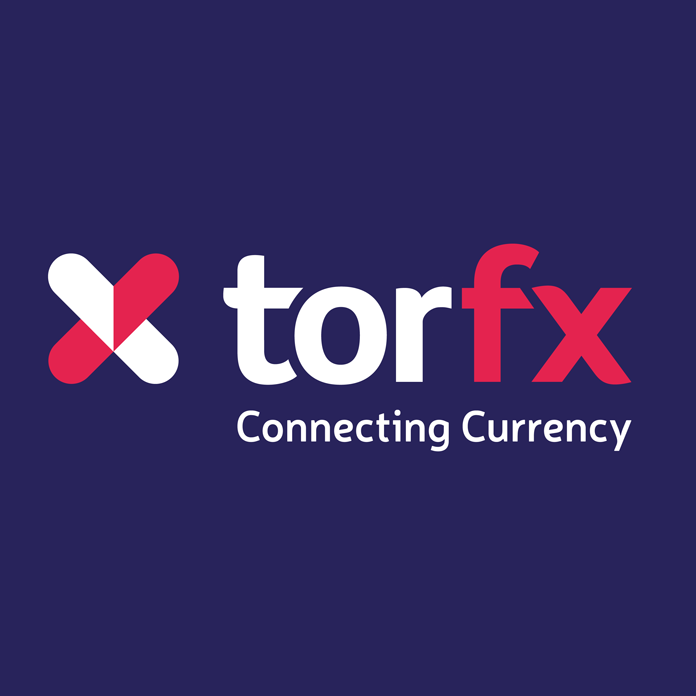 TorFX - Review and User Ratings
Considering TorFX for Foreign Transfers? Read the BER Review and browse 2060 customer ratings to decide whether they are right for you.
---
---
TorFX UK - Reviewed by Best Exchange Rates
TorFX is a UK based leading provider of foreign exchange services, offering very competitive currency exchange rates for international money transfers and an unrivalled personal service to private individuals and companies with a foreign currency exchange requirement. TorFX UK review - TorFX Australia review.
The TorFX team are based in London and Penzance and process in excess of 3 billion Pounds in foreign exchange and international payments per annum. They are known for both their quality of their customer service and exchange rates.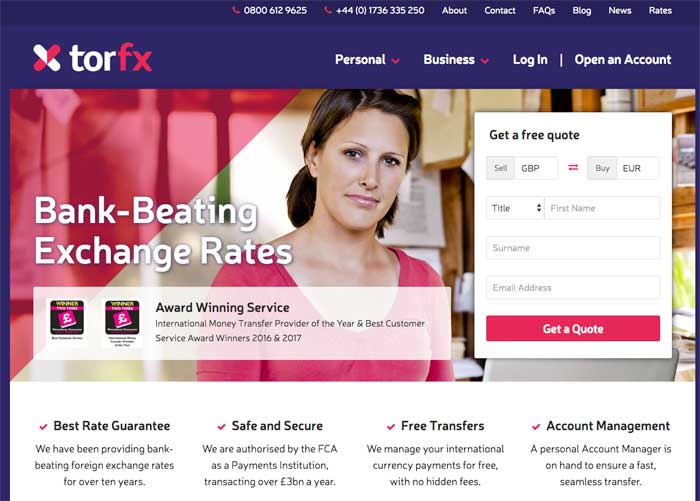 Contact TorFX and inform them you visited Best Exchange Rates and they'll guarantee you just that, the Best Exchange Rates when making an international money transfer or payment overseas for both individuals and businesses.
TorFX can make you considerable savings against the banks by providing more competitive exchange rates.
Promo coupon: BER negotiated better rates with TorFX.
TorFX write a daily currency report which you can read here - TorFX Daily Currency Report
---
TorFX UK - How it Works and FAQS
After you register via this promo link (to get your two fee-free deals) the steps to transfer via TorFX are as follows:
1. TorFX will call you to verify your identity and set up your online account, you can then monitor the rate in real-time.
2. When you are ready to do your transfer you simply login into the TorFX website and enter the details (Currency, Amount & Beneficiary Account) and then transfer the FROM amount to the TorFX bank account.
3. TorFX then send the money to the beneficiary foreign currency account at much better rates than you would get using your own bank.
4. TorFX notifies you when the funds have been received into the destination account.
No Cash, Cheques or Credit Cards Accepted
TorFX does not send cash or allow cash to be paid into its account. Using cash will result in the payment being stopped and the return of funds involves a lengthy process that includes a formal identification process.
TorFX does not accept cheques under any circumstances, for any currencies.


TorFX Exchange rates
TorFX deals with more than 60 global currencies with very competitive rate margins and generally offers the best or close to the best exchange rates in the market.
As with all foreign exchange providers their exchange rates get better the more you send, with margins often going under 0.7% once you are sending over GBP 50K.
TorFX do not charge Transfer Fees.
TorFX has one fees when using their online platform where you can send as little as £100 on a fee-free basis.
Occasionally, third-party banks may deduct a fee from your transfer before paying your recipient. This fee may vary and TorFX receives no portion of it. If you're concerned, simply talk to one of the TorFX team members to discuss your transfer as you may need to send extra to account for any possible bank imposed fees.
Time it takes for TorFX to receive funds from you
| From | Time |
| --- | --- |
| Australia(AUD) | 1 day |
| Canada (CAD) | 1-2 days |
| europe (EUR) | 1-2 days |
| Hong Kong (HKD) | 1 day |
| Japan (JPY) | 1-2 days |
| New Zealand (NZD) | 1 day |
| Singapore (SGD) | 1 day |
| USA (USD) | 1-2 days |
| UK (GBP) | 1 day |
---
Time it takes for the funds to reach your recipient
| From | Time |
| --- | --- |
| Australia(AUD) | 1 day |
| Canada (CAD) | 1-2 days |
| europe (EUR) | 1-2 days |
| Hong Kong (HKD) | 1-2 days |
| India (INR) | 2 days |
| Japan (JPY) | 1-2 days |
| New Zealand (NZD) | 1 day |
| Singapore (SGD) | 1 day |
| Thailand (THB) | 4 days |
| USA (USD) | 1 day |
| UK (GBP) | 1 day |
---
---
TorFX - User Ratings and Feedback
The below star review table make it easy to browse customer ratings & feedback from both BER users and Trustpilot so you can get an overall feeling for customer satisfaction with TorFX ... the good and the bad!
Browse


TorFX user ratings powered by

great for my business transfers
Feb 11, 2016
Torfx have been a great help with my business transfers, my account manager mark was excellent, he talked me through with every part of the process, which was a great help as I didn't have the first clue about currency markets before. I also got a very good rate on the us dollars mark purchased for me, couldn't really find anyone who could match it, so thank you mark! David

fantastic
Sep 15, 2016
My experiance with TorFX has been fantastic. I found their rates very competitive and my trader David gave me information on how the rates could benefit me. I'd recommend them to anyone.

icing on the cake
Jul 15, 2015
I found TorFX to be incredibly friendly and efficient as well as offering the best rates I could find. The fact that they got my money into my french account the same day is the icing on the cake!

most professional
Dec 16, 2015
Since moving to London 2 years from Canada I have used numerous brokers but TorFX have been the most professional and efficient to date. Have referred them to many friends and friendly who have experienced the same great service

very good
Jan 26, 2013
Good rates, better than others I tried. Service very good and funds arrived quickly. What more can I say!?

regular transfers
Dec 16, 2015
I didn't realise how much I needed this service until I spoke one of the Torfx consultants, they assisted me when I was working in the States for a year with regular transfers back to London, they are competitive, reliable and have Knowledgeable employees.

most professional
Jul 19, 2016
We use Torfx on a regular basis. We get a great rate and excellent customer service. We've tried other brokers in the past but find that none come anywhere close to Torfx, especially in terms of their friendly, efficient and helpful staff. Would highly recommend.

very good rates
Jan 25, 2013
Very efficient, helpful and professional service. Funds transferred expediently and at a very good rate. Will certainly be using Torfx to exchange funds for buying our house in the Algarve. Highly recommended.

Josie was excellent
Feb 16, 2013
Very quick payment, managed to set my account up online within minutes and my trader Josie was excellent with good market knowledge and top quality customer service. Will certainly use TorFX again.

10/10
Sep 09, 2013
I have been using this company for my own personal transfers and also my business from time to time, it's not just the money they same it is the service and friendliness making everything so simple. 10/10 Torfx
M Reeves

good talking to a real person
Oct 11, 2013
TorFX made the whole process a breeze. I'm glad they didn't force me on to a platform to do the transfer. I enjoyed the security of talking to a real person and also getting a great rate straight from the dealing desk. The registration form took me a couple of minutes and the whole process was very comfortable and easy. I recommend TorFX to anyone that hates the confusion of platforms and is looking to get the best customer service and rates in the industry.

BER is useful site
Mar 16, 2014
This is a very useful website which lead me to use the services of TORFX, so thankyou. Fantastic service and TORFX saved me just over $1K on my transfer. Have recommended to friends.
Mar 17, 2014
Hi J Cockles, good to hear you're happy with the TorFX service and that you found them via Best Exchange Rates plus took the time to share your positive experiences
The BER Team

hassle free
Sep 16, 2017
Having used TorFX for many years, I can say with all honesty that every transaction completed, generally by David Caldaralo, has been done promptly and hassle free. Thoroughly recommend the service as a whole, and David in particular, he is a great asset to the Company.

much better rate
Apr 20, 2016
Excellent service and got a much better rate for changing my euros back to gbp than my bank was offering

Regular transfers between Australia and UK
Aug 6, 2016
I have been using them since Nov 2010 and have nothing but praise. I have transferred £ to € and they get it away same day if before 3pm, also it arrives in my French bank next day and they do not charge for the transfer, whereas Natwest want £25. Comparing their rates to Natwest I have always done better with TorFX

best exchange rate
Feb 17, 2015
I discovered TorFX on this website and was first attracted because they were stated as having the best exchange rate, after making enquiries this turned out to be true, it has made such a difference on our transfers from Australia to England and the USA.

different rates
May 16, 2016
Just completed registration to the site to exchange £ to $ and the rate I was told over the phone and what is currently displayed on this site is higher than what I'm no offered as a registered customer.

Staff are friendly and service is easy enough to use.
May 18, 2016
Hi Alex, thanks for your review for TorFX, we spoke to the broker about your rates and it seems you didn't click through from Best Exchange Rates…perhaps you saw them on here and then googled them separately? In any case Tor have put you onto their top tier rates which normally is only for customers clicking through or being referred from us. This is an example of why you should always use our buttons/links to click through to our providers and also make sure you mention that you discovered them on BER when you speak to them as we have negotiated preferential rates for our customers with our BER Partner brokers.

terrible experience
Mar 6, 2012
I tried to use them based on a recommendation and had a terrible experience. They are nice people but seem to have no experience in dealing with Middle East. I had to get AED (UAE currency) to their UK account. They didn't provide all the information the largest Bank in Middle East required, resulting in delays. After the delays they had contributed towards, their risk department cancelled a trade without telling the relationship manager or us! They then tried to charge us £4,000 for their loss because they cancelled the trade at a time when market was not good! Ironically they cancelled the trade the day the money was confirmed to have been sent to them. The sceptic would think they didn't tell the client until they were sure they had their money so they can deduct what ever they want! They also seem very worried about risk relative to larger players such as Travelex who we have used with great experience. Would not recommend them.

BER is useful site
Jan 2, 2015
I found TorFX from this website after making enquiries to a couple of providers through this website, I choose to use them to transact a reasonable amount of money. The service was good, but I got stung right at the transaction end when the figure they ended up quoting was actually more like 1.5% fees, rather than the .7% to .8% that they advertise. A tough lesson to learn especially on larger sums, maybe not such a big issue on smaller amounts. This rate effectively ranks TorFX down with the best banks, not second as shown on the website.
Mar 17, 2014
Hi Matt, sorry to hear you weren't happy with the TorFX rate. We always recommend that you check the rates from any broker to the latest rates on Best Exchange Rates, that way you can be sure to know what the margin is you are being quoted. But thanks for taking the time to share your experience on BER.
The BER Team
---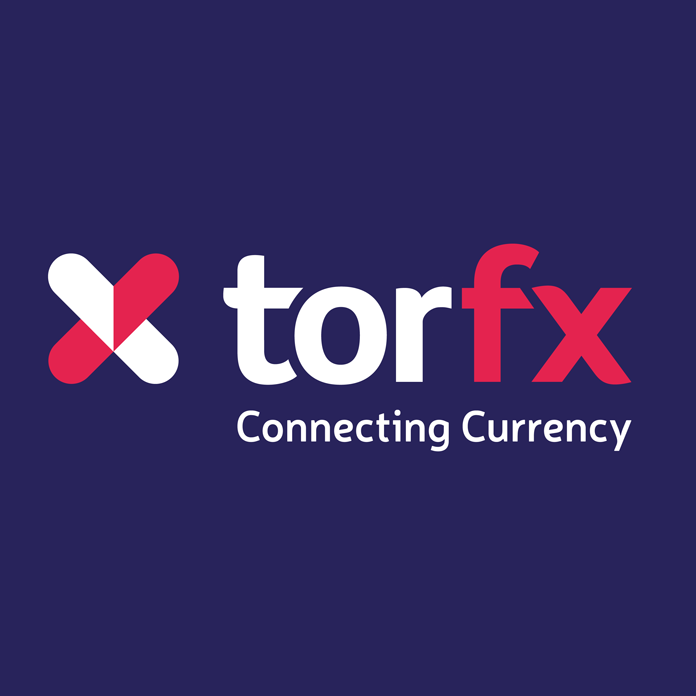 We hope this review and user feedback helped you consider whether TorFX is right for you. If you would like to suggest how we could improve this review or if you are already a customer of TorFX and would like to leave your own feedback for inclusion you can do so here.