This is a foreign exchange guide to Ecuador, U.S. dollar currency news plus USD transfers and travel tips.
In this guide we review :
---
U.S. dollar (USD) general currency information
---
What do US dollar banknotes look like?
Currently printed denominations are $1, $2, $5, $10, $20, $50, and $100. The following table shows the current design of the notes both front and reverse.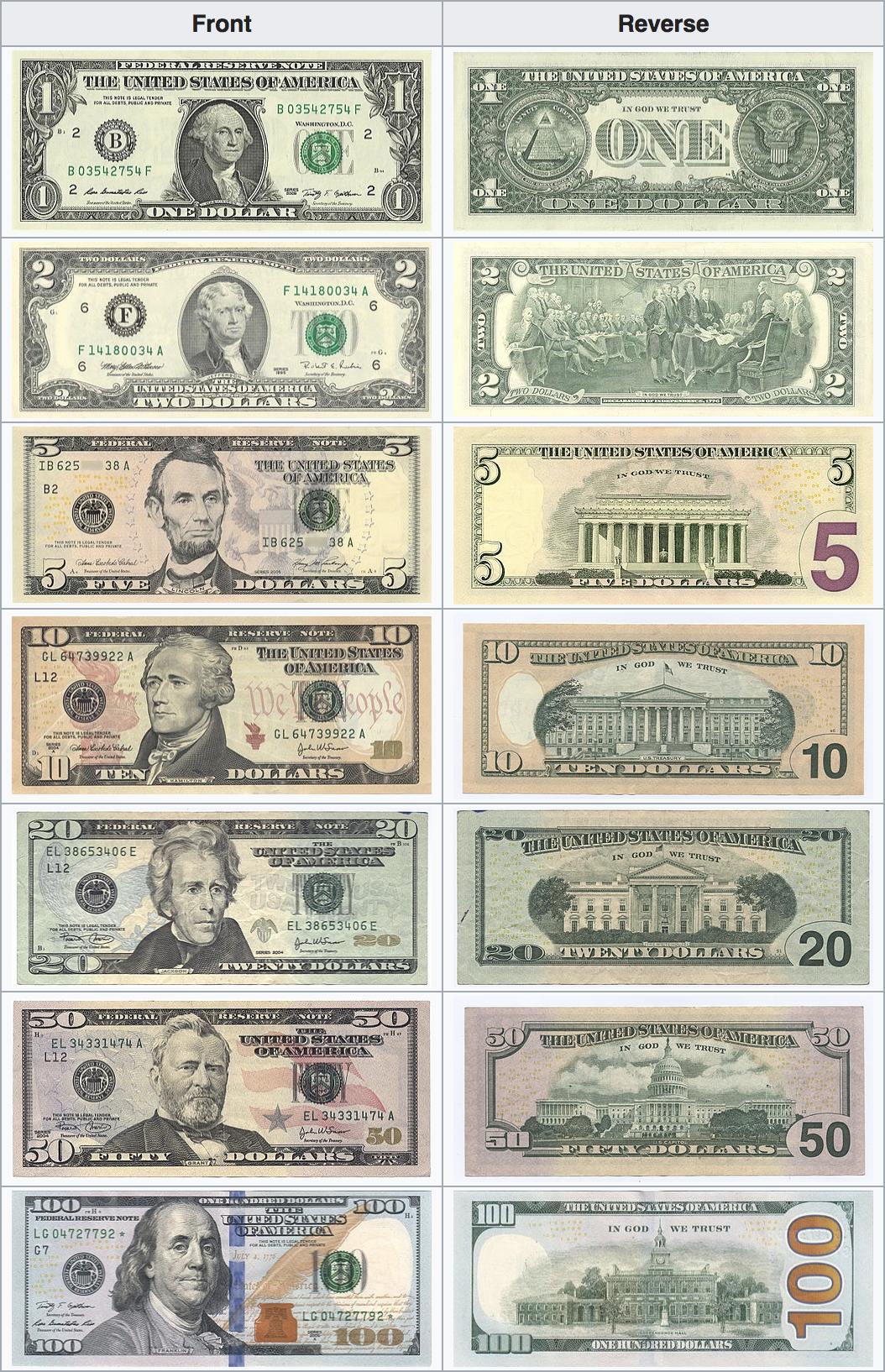 US dollar banknotes - front and reverse design (source Wikipedia)
The currency is nicknamed the "green-back" as as you can see is predominantly green. So care should be taken when handing over money or checking your change in low-light situations. Post-2004 series banknotes have started to incorporate other colors to better distinguish different denominations.
Which countries besides the USA use the US Dollar as official currency?
Other nations besides the United States use the U.S. dollar as their official currency. For instance, Ecuador, El Salvador, and East Timor all adopted the currency independently. The former members of the U.S.-administered Trust Territory of the Pacific Islands, which included Palau, the Federated States of Micronesia, and the Marshall Islands, chose not to issue their own currency after becoming independent, having all used the U.S. dollar since 1944.

Two British dependencies also use the U.S. dollar: the British Virgin Islands and Turks and Caicos Islands. The islands Bonaire, Sint Eustatius and Saba, now collectively known as the Caribbean Netherlands, adopted the dollar on January 1, 2011, as a result of the dissolution of the Netherlands Antilles. The U.S. dollar is the official currency for governmental transactions in Zimbabwe.
What is the U.S. dollar currency code and symbol?
The three letter currency code for the U.S. dollar is USD and the symbol is $.
---
Which countries use the U.S. dollar?
It is the domestic currency in United States, East Timor, Ecuador, El Salvador, British Virgin Islands, US Virgin Islands, Caribbean Netherlands, Turks And Caicos Islands and Zimbabwe.
---
U.S. dollar (USD) in the markets
It was a fine run for the dollar during the six-week period ending May 25th – the day of this report. The Dollar Index never looked back after breaking from a pocket of congestion in the final week of April. The index ended this period achieving a six-month high of 94.3. The dollar benefited from higher US yields.
Against individual currencies, within this timeframe the dollar was impressive against the euro, which fell to buy only 1.165 dollars, from levels near 1.24; against the pound, which fell to buy 1.33 dollars, from 1.44; and against the New Zealand dollar, which fell to 0.69 from 0.738.
A warning on the dollar's medium-term outlook was offered in May by Citibank. The bank argues that downward pressure on the dollar will resume because Washington's planned fiscal spending will cause a further deterioration in the US' twin deficits. The dollar might have 5 percent downside over 6-12 months and 10 percent downside in the long run, a Citi analyst said.
In the coming month, supporting the dollar against growth-sensitive currencies, which include CAD, AUD, NZD, SEK, NOK, SGD and most of the emerging market currencies, will be developments surrounding global trade. In May, trade tensions resurfaced after the US Commerce Department announced it would investigate automobile imports. In 2018, Washington had already announced tariffs on aluminium and steel imports, angering much of the rest of the world.
The interactive chart below shows the USD to EUR exchange rate for the previous 3 months with rate alerts for days when the exchange rate moved up or down significantly or for 30 day highs and lows.
---
USDEUR currency converter
---
Travel money for Ecuador
Save money and time by Ordering your U.S. dollar online from Travelex, you get better rates and can pick up the USD cash locally or even on travel day at the airport.
Another popular option is to use a Pre-paid Travel Card. Your Debit/Credit Card provider will charge you 2% from market mid-rate, but your bank may also charge an extra 3% as an "Overseas Transaction Charge" plus "Overseas ATM" fees for withdrawing cash.
For card purchases if offered a choice of currencies always select to Pay in U.S. dollar otherwise you may get much worst exchange rates.
Ecuador Trip Checklist
Compare USD travel cash rates - probably why you are here!
Search Hotel deals - Save on your accomodation in Ecuador
Lonely Planet - world's best travel guide (coupon and deals)
---
Sending money to Ecuador
When searching around for information on how to get a good exchange rate when sending money to Ecuador you need to start with finding out the latest U.S. dollar foreign-transfer exchange rate.
Then compare your bank's exchange rates to several licensed FX providers exchange rate and fees to see how much you can save (we make that calculation easy here).
---
Get a better deal for foreign transfers to Ecuador
When sending money to Ecuador it's important to compare your bank's rates & fees with those we have negotiated with our partner money transfer providers. To get a better deal you should follow these 4 simple steps :
Open an account with a BER reviewed FX provider (id docs may be required)
You specify the local or U.S. dollar amount you want to transfer
Make a local currency domestic transfer for the requested amount to the provider's bank account in your country
Once your funds are received by the provider the converted USD amount will be transfered to the recipient account you specify in Ecuador.
Use our Send to USD calculator to compare the exchange rates of FX specialist providers rates versus your bank's standard rates you can hopefully save around 5% and maybe more - end result is more U.S. dollar deposited into the recipient bank account and less margins and fees kept by the banks!
Bank Transfers to Ecuador
---
U.S. dollar - exchange rates - live and historic