Foreign Exchange Guide to the United States
Latest market mid-rate:
1.0 =
The domestic currency in the United States is the U.S. dollar with currency code USD. Read this foreign exchange guide to the United States and the U.S. dollar with money transfer and travel tips plus U.S. dollar exchange cross rates.
In this guide we review :
---
U.S. dollar (USD) general currency information
What do US dollar banknotes look like?
Currently printed denominations are $1, $2, $5, $10, $20, $50, and $100. The following table shows the current design of the notes both front and reverse.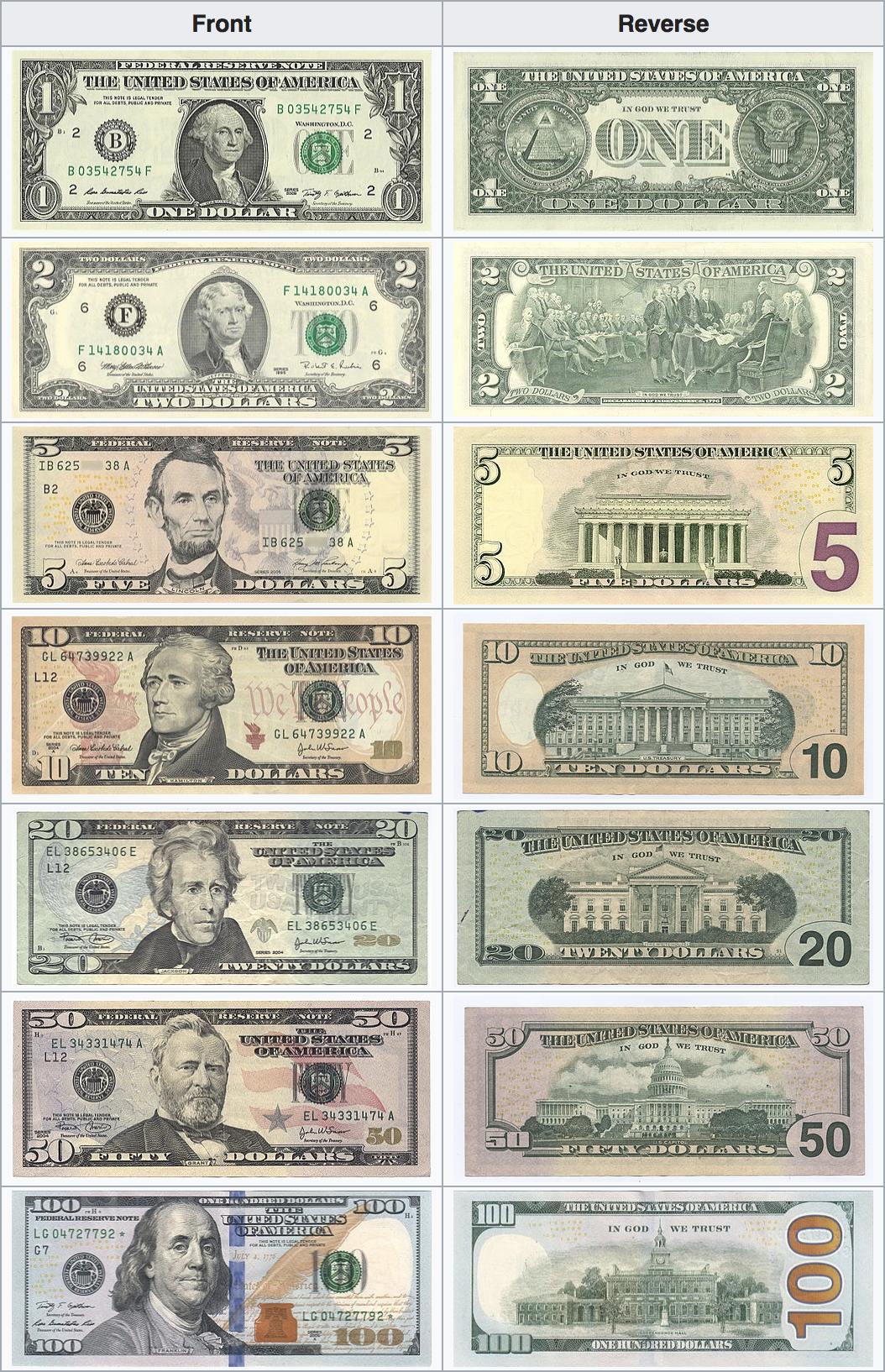 US dollar banknotes - front and reverse design (source Wikipedia)
The currency is nick-named the "green-back" as as you can see is predominantly green. So care should be taken when handing over money or checking your change in low-light situations. Post-2004 series banknotes have started to incorporate other colors to better distinguish different denominations.
Which countries besides the USA use the US Dollar as official currency?
Other nations besides the United States use the U.S. dollar as their official currency. For instance, Ecuador, El Salvador, and East Timor all adopted the currency independently. The former members of the U.S.-administered Trust Territory of the Pacific Islands, which included Palau, the Federated States of Micronesia, and the Marshall Islands, chose not to issue their own currency after becoming independent, having all used the U.S. dollar since 1944.

Two British dependencies also use the U.S. dollar: the British Virgin Islands and Turks and Caicos Islands. The islands Bonaire, Sint Eustatius and Saba, now collectively known as the Caribbean Netherlands, adopted the dollar on January 1, 2011, as a result of the dissolution of the Netherlands Antilles. The U.S. dollar is the official currency for governmental transactions in Zimbabwe.
What is the U.S. dollar currency code and symbol?
The three letter currency code for the U.S. dollar is USD and the symbol is $.
Which countries use the U.S. dollar?
It is the domestic currency in United States, East Timor, Ecuador, El Salvador, British Virgin Islands, US Virgin Islands, Caribbean Netherlands, Turks And Caicos Islands and Zimbabwe.
---
U.S. dollar (USD) in the markets
Approaching the end of April, the dollar was trading at a three-month high against a basket of currencies.
In April, the dollar's trajectory seemingly re-coupled with that of US interest rate expectations. The world's reserve currency followed Treasury yields higher as they climbed to multi-year highs. When yields rise, traders expect higher interest rates from the Federal Reserve.
Yields have risen largely because of an increase in Treasuries supply (necessary to fund Trump's tax cuts and proposed spending), but also from signs of improved wage inflation. A reduction in trade tensions following Xi Jinping's address to the Boao Forum in April – Xi spoke of the need to ease tariffs and to further open up China's economy – also helped to cement expectations for four more Fed hikes in 2018.
HSBC said in late April that it had changed its view on the dollar; it was now predicting a bull run and it foresaw EUR/USD falling to 1.15 by year-end, from levels at the time in the mid-1.21s.
The interactive chart below shows the USD to EUR exchange rate for the previous 3 months with rate alerts for days when the exchange rate moved up or down significantly or for 30 day highs and lows.
---
USD currency converter
---
Travel, Currency and Money saving tips for United States
Most cities and larger towns have dependable local bus systems, though they are often designed for commuters and provide limited service in the evening and on weekends. Getting around between cities via bus or train can often be not must cheaper than getting a cheap flight, so it's something to consider depending on your travel taste and how much time you want to save travelling.
Eating out is relatively cheap and you may find that one meal could easily feed two. When tipping for food 15%-20% of the cost of the meal is expected as it is considered part of a waiter's wage.
New York street scene
Don't just stick to the cities, National Parks in the USA are some of the best things about the US. Stunning landscapes, Ranger guided tours and facilities and consistently excellent, while the information handed out for free is amazing. And you you don't need to be a hardcore hiker to explore rugged, remote parks. The policy of putting in drive-up viewpoints and easy, flat paths makes the parks remarkably easy to travel round, even if you've limited mobility.
Flying over Half Dome - a granite formation at the eastern end of Yosemite Valley in Yosemite National Park, California
United States Trip Checklist
Compare USD travel cash rates - probably why you are here!
Search Hotel deals - Save on your accomodation in the United States
Lonely Planet - world's best travel guide (coupon and deals)
Travel money for the United States
Save money and time by Ordering your U.S. dollar online from Travelex, you get better rates and can pick up the USD cash locally or even on travel day at the airport.
Another popular option is to use a Pre-paid Travel Card. Your Debit/Credit Card provider will charge you 2% from market mid-rate, but your bank may also charge an extra 3% as an "Overseas Transaction Charge" plus "Overseas ATM" fees for withdrawing cash.
For card purchases if offered a choice of currencies always select to Pay in U.S. dollar otherwise you may get much worst exchange rates.
Travel Money for the United States
---
Sending money to the United States
What prime property does $US1m buy in the United States?
Using New York, Los Angeles and Miami as examples to compare the area (㎡) of prime property that $US1million buys in the US (Q1 2018) the sizes are: New York 25㎡, Los Angeles 58㎡ and Miami 78㎡.

This is compared to equivalent areas for Hong Kong 22㎡, London 27㎡, Singapore 37㎡, Paris 45㎡, Shanghai 50㎡, Tokyo 70㎡, Berlin 74㎡, Mumbai 94㎡, Istanbul 110㎡, Dubai 138㎡ and San Paulo 172㎡.
How to save when sending money to the United States
When sending money to the United States it's important to compare your bank's rates & fees with those we have negotiated with our partner money transfer providers. To get a better deal you should follow these 3 simple steps :
Open an account with a BER reviewed FX provider (id docs may be required)
You specify the local or U.S. dollar amount you want to transfer
Make a local currency domestic transfer for the requested amount to the provider's bank account in your country
Once your funds are received by the provider the converted USD amount will be transfered to the recipient account you specify in the United States.
Use our Send to USD calculator to compare the exchange rates of FX specialist providers rates versus your bank's standard rates you can hopefully save around 5% and maybe more - end result is more U.S. dollar deposited into the recipient bank account and less margins and fees kept by the banks!
Bank Transfers to the United States
---
U.S. dollar - exchange rates - live and historic