What do US dollar banknotes look like?
Currently printed denominations are $1, $2, $5, $10, $20, $50, and $100. The following table shows the current design of the notes both front and reverse.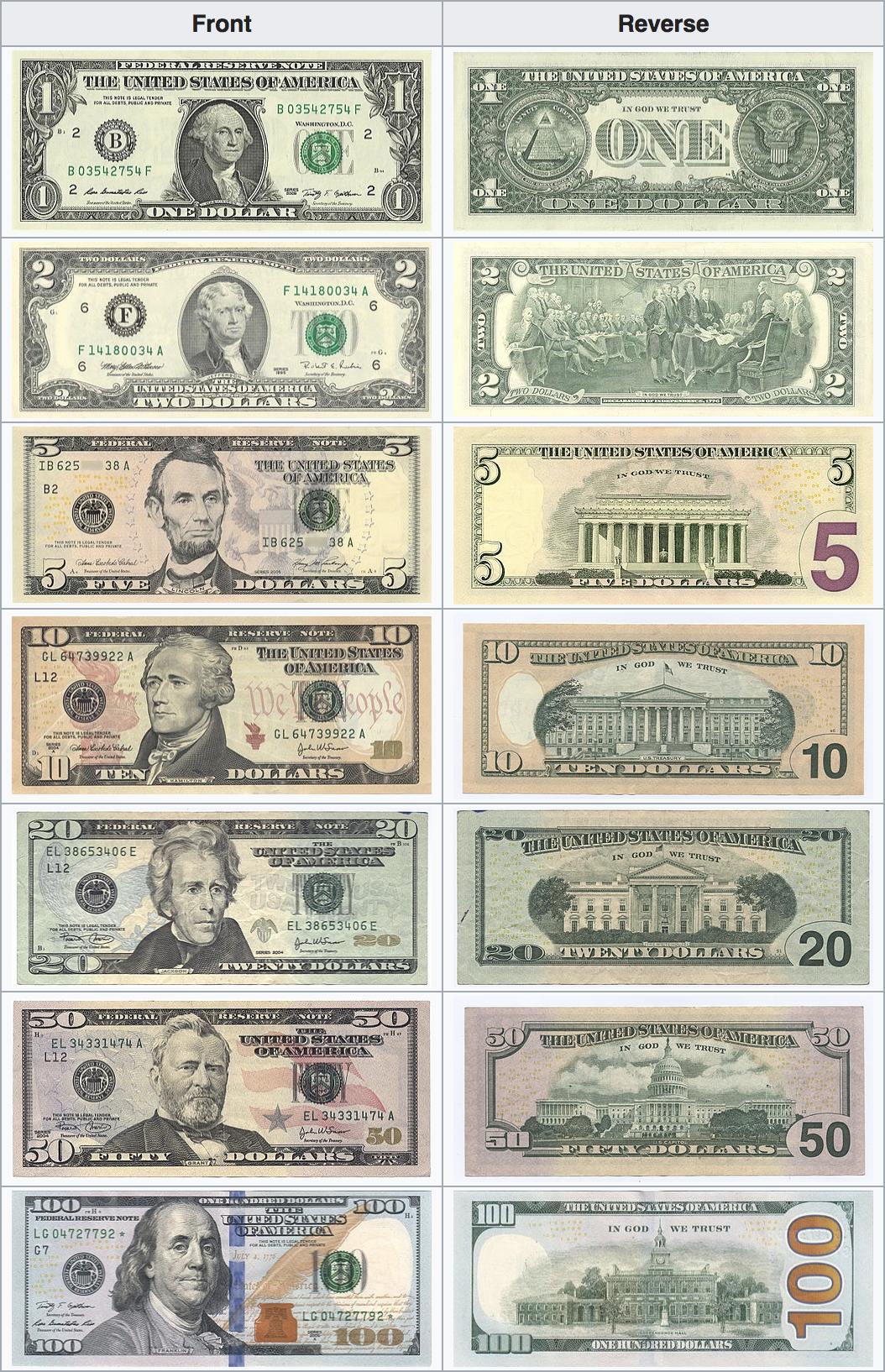 The currency is nicknamed the "green-back" as as you can see is predominantly green. So care should be taken when handing over money or checking your change in low-light situations. Post-2004 series banknotes have started to incorporate other colors to better distinguish different denominations.

Which countries besides the USA use the US Dollar as official currency?
Other nations besides the United States use the U.S. dollar as their official currency. For instance, Ecuador, El Salvador, and East Timor all adopted the currency independently. The former members of the U.S.-administered Trust Territory of the Pacific Islands, which included Palau, the Federated States of Micronesia, and the Marshall Islands, chose not to issue their own currency after becoming independent, having all used the U.S. dollar since 1944.
Two British dependencies also use the U.S. dollar: the British Virgin Islands and Turks and Caicos Islands. The islands Bonaire, Sint Eustatius and Saba, now collectively known as the Caribbean Netherlands, adopted the dollar on January 1, 2011, as a result of the dissolution of the Netherlands Antilles. The U.S. dollar is the official currency for governmental transactions in Zimbabwe.
Read Next
The threat of a proxy war between the US and Iran in Iraq has pared back some of the recent gains of "risk-on" currencies.
Last update: 8 Jan, 2020
Both the Australian dollar and British pound sterling have had a hard time of late caught between the rock of the China/US trade war and the Brexit hard place.
Last update: 7 Jan, 2020
The RBA has cut Australian interest rates to a record low of 1 percent in an effort to boost inflation. The Australian dollar is slightly stronger following the widely expected decision but is expected to lose 5–7 percent of its value before year-end.
Last update: 7 Jan, 2020
The British pound was the worst-performing major currency in the April-June period and remains "impossible to forecast" amid a Tory leadership battle that might force "no deal" or a general election.
Last update: 30 Jun, 2019
Get a Better FX Deal when you Send and Spend Abroad.