Westpac Exchange Rates Explained and Compared
Like all the leading banks, Westpac Bank offers a wide range of currency related products and services to its customers. If you are a customer of the bank and use internet banking to transfer money overseas then you will be interested to learn how Westpac exchange rates compare to other providers.
If you are looking to send money overseas through an International Money Transfer (IMT) or get travel money, read on to:
Foreign Transfers - How does Westpac Rates & Fees Compare?
Sending Money Abroad with Westpac Compared
Travel Money - Westpac Rates & Fees Compared
Westpac Travel Money Rates Compared
Westpac exchange rates basics
Westpac offers several foreign exchange services for the convenience of its clients. Their most sought after products include cash, Travel cards, and International Money Transfers. Although you might feel overwhelmed when you hear terms like foreign exchange rates, international money transfer, loading travel card and so on, you need not worry.
This article will help you gain an insight into the seemingly complex world of foreign exchange rates. Soon, you'll be able to understand and compare the Westpac exchange rates for Travel Money (cash), Travel Cards and International Money Transfers. As a result, you will learn to:
Find the right exchange rate as per your need
To calculate currency conversion by using the exchange rates
Compare the Westpac exchange rates to the rest of the options available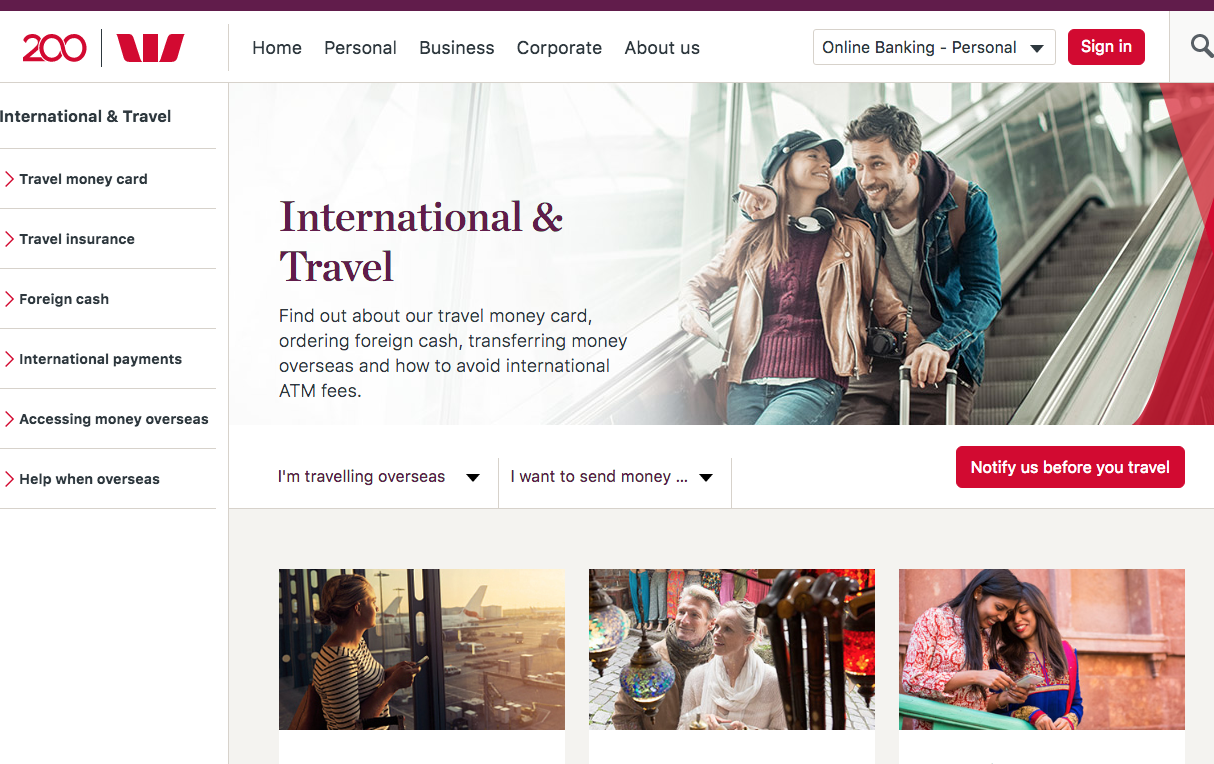 Components that decide exchange rates
In broad terms, exchange rate refers to the value of currency for conversion into another currency. There are three main factors, which decide the exchange rates. They are:
The currency itself
Type of transaction – buy or sell
Product purchased (cash, travel card or bank transfer) Let's now consider each of these factors in detail.
Before you proceed further, take a look at the table below. It lists the exchange rates of various currencies on a given day.

Currency
Type of transaction
Product required
Calculating Westpac Exchange Rates
As you have understood the determinants of exchange rates, let's take it a bit further and see how you can find answers to some common questions raised while calculating the exchange rates.
How much Currency will my money buy?
How much AUD would you need to buy a certain amount of foreign currency?
What is the cost to send a certain amount of currency overseas?
How to calculate the value of currency received from overseas?
So, you've now seen that currency conversion calculation is easy. All you have to do is match your product with the right exchange rate. In general, the rule would be:
To convert AUD into foreign currency, multiply it by the exchange rate
To convert foreign currency into AUD, divide it by the exchange rate
In this context, you should also remember that the exchange rates vary across the currencies, type of products and the type of transaction. You can use a combination of products to make the best of the rates. Also, it is always better to get your currencies converted at the branch.
For more information on Westpac exchange rates and international travel and transfer services visit Westpac here
Related Posts
---
Filed under - Category: Reviews & Ratings Tags: Australia, Banks