If you are a customer of ANZ and are using ANZ Internet Banking to send money abroad then you should definitely read on where you will learn about:
Foreign Transfers Table - ANZ Compared
Travel Money (Buy Foreign Cash) Table - ANZ Compared
The live tables above will give you an indication of how ANZ Bank exchange rates compare to an alternative FX provider. At the time of writing (16/04/18), the exchange rate margin that ANZ was showing for Foreign Transfers was 4.05%. The margin indicates the amount above the mid-rate (i.e. the rate at which the banks interchange with each other). The cheapest alternative for Foreign Transfers (OFX) at the time of writing was showing a margin of 1.43%, meaning if you had changed $10,000 for EUR with OFX, you would have received EUR165 more than if you had made the exchange with ANZ.So, what about the other exchange rates services that ANZ offers, are they so much better that it makes the higher cost of transfer worth while?
The key benefit that your bank offers to it's existing customers, is the knowledge that you are transferring with a familiar brand. They already have all your details so there will be no need to complete any additional forms or undergo any further customer verification or security checks. With that in mind, if you are making a one-off international money transfer, where the amount to be exchanged is sufficiently low for the difference in cost to be acceptable to you, then going with your bank could be the way to go for you.
If, however, you are making a substantial or intend to make regular international money transfers, then securing the lowest exchange rate ongoing, will be more critical, as will expertise in the foreign exchange market. The FX specialists that we list on our site are registered and regulated organisations with a strong history of servicing the Foreign transfer and Travel money market.
An FX specialist has resoures that are dedicated to foreign transfers so they will likely be able to offer you advice and guidance as to the type of contract (for example a Spot or Forward contract) that would best suit your situation.
Exchange rates are something that often worries a traveller planning to travel abroad. Despite the easy availability of travel cards and other facilities, there could be occasions when you will need to carry cash with you. Even if you aren't keen on knowing it all in detail, a little awareness of the exchange rates could go a long way in helping you choose the best option – cash, use a travel card or make an international money transfer to pay for an organised tour or accomodation cost.
Understanding ANZ Bank exchange rates made easy
To start with, it is common knowledge that ANZ offers its customers a wide range of currency related products and services. This is an attempt to throw more light on the ANZ Bank exchange rates. The aim is to explain and compare the various exchange rates provided for options like Travel Money (cash), Travel Cards and International Money Transfers (IMT).
When you hear the word exchange rate, you might feel a bit lost and confused. However, it becomes easy to understand the exchange rates when you know a few details. For instance, an exchange rate depends on various factors like:
The currency you need
Transaction – whether you wish to buy or sell the currency
The type of product – Travel Money, a Travel Card or International money transfer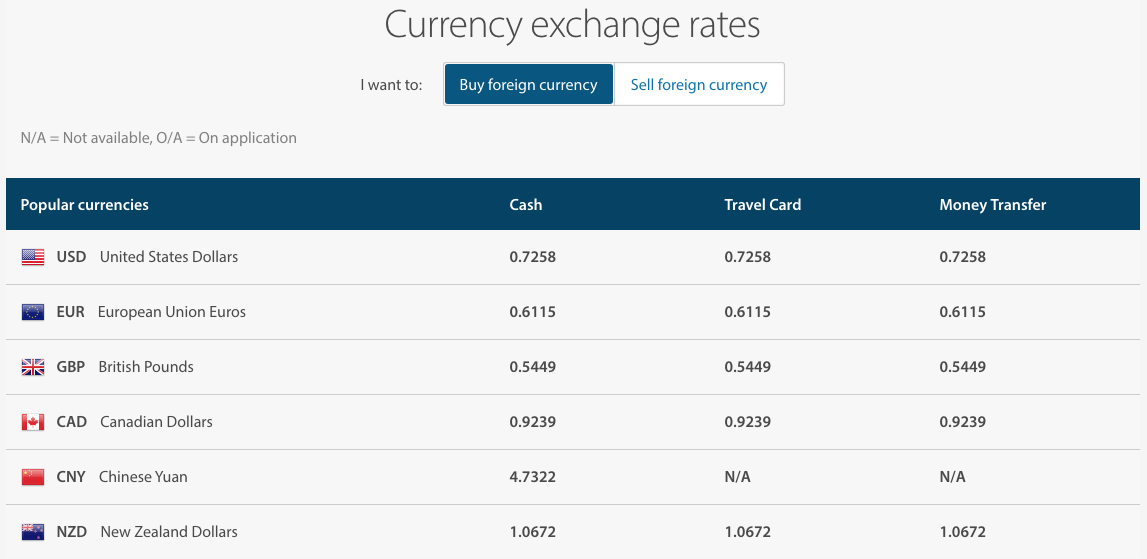 Let's now use this chart to understand the currencies, transaction type, exchange rates and their calculation that applies in your situation:
Which Currency
Let's assume that you are heading to Japan and would like to know about the exchange rates of the
Japanese Yen (JPY). Although the banks and currency exchange sites would list the exchange price of several currencies, in this case, you should look at only the exchange rates for the JPY.
The euro is the sole currency of 19 EU member states: Austria, Belgium, Cyprus, Estonia, Finland, France, Germany, Greece, Ireland, Italy, Latvia, Lithuania, Luxembourg, Malta, the Netherlands, Portugal, Slovakia, Slovenia, and Spain. Note some exceptions in Europe are the nordic states such as Denmark, Sweden and Norway that have their own version of kroner.
For travelling to the UK, you'll need to check the exchange rates of the GBP and for travelling to the US, the rates of USD. There is no need to look at other exchange rates other than of the currency of your host country.
The next factor that determines the exchange value is the type of transaction – that is, whether you are looking to buy or sell the foreign currency. If you are going abroad, it is evident that you'll need to buy some foreign currency. Conversely, if you have just come back from a trip abroad and have spare foreign currency with you, you will have to sell the same.
The sample chart above gives the details of both purchase and sale price of some currencies (usually the bank will have the exchange rates of all the currencies they deal with. Here we have taken only a few from the list). If you are travelling abroad, you need to buy the currency and hence, you should check the details in the columns marked as 'Bank Sells'. The bank offers you these rates when you purchase foreign currency from them.
If you are looking to sell currency or if you are receiving money from overseas, you should look at the columns under 'Bank Buys'. The bank will buy the foreign currency from you under this rate.
Know which product you need
Now that you know the buying and selling rates, you'll have to decide the type of product that suits your need. As the ANZ exchange rates differ slightly across the products, the amount also varies accordingly. You can refer the table for the exchange rates for different products and choose the best combination that suits you.
The term "IMT/TT" stands for International Money Transfer or Telegraphic Transfer. It refers to the exchange rate that you'll receive if you make an ANZ bank transfer to or from another bank account overseas.
The term "Travel Card/Chq" refers to the exchange rate you'll receive if you load an ANZ Travel Card for your travel needs.
"Notes" refer to the exchange rate you'll receive if you are to buy or sell currency in hard cash through the ANZ branch. Please remember that the exchange rates at other places like the airport would be different.
How do you calculate currency conversions?
Once you've matched your product with the right exchange rate, it is time for currency conversion calculation. The general rule of thumb would be:
Convert AUD into foreign currency by multiplying it by the rate
Convert foreign currency into AUD by dividing it by the rate
Here are some of the conversion calculations you can resort to in various situations:
Buying Travel Money Calculation
A common question that arises while buying travel money is – How much Currency will your money buy?
If you have a clear idea of the amount of money you want to convert, you can use the following formula:
Australian Dollars with you multiplied by the exchange rate of notes = the amount of money you will receive in foreign currency.
For example, if you have AUD 1000 with you and wish to buy USD at the rate of .7959, then the amount of USD you'll get in exchange is:
1000 AUD * 0.7959 = 795.9 USD
Another question would be – What will be the cost to buy a certain amount of currency?
If you wish to buy a certain amount of foreign currency, here is how you find the cost in AUD:
AUD Cost = Amount of Currency You Want to Buy/Exchange Rate of Notes
1000 GBP / 0.5982 = 1671.68 AUD
What is the cost to send a certain amount of currency overseas?
The calculation to send a set amount of money overseas is the same as buying travel money (AUD Cost = Amount of Currency You Want to Buy/Exchange Rate). Please note that the exchange rates would be slightly different from that of notes in case of IMT/TT.
Note we have found that the ANZ exchange rates available through the ANZ Internet Banking website are worse than those advertised by the bank.
What are the rates for receiving currency from overseas?
For calculating how much money you should receive in AUD from overseas, use the following calculation:
The AUD You Receive = Amount of Currency Received/Exchange Rate for IMT/TT
1000/0.5878 = 1701.25AUD
As you can see from above, you can see that it is fairly simple but tedious to find the exchange rates that apply to you so we recommend you can use our calculators. The main point to remember is that there would be slight changes in rates depending on the type of product you wish to buy/sell. Also, it is worth remembering that not all products and services are available across all currencies and the rates will be different at ANZ Foreign Exchange centres.
Now that you know about ANZ Exchange rates, you can make diligent currency buying decisions. If you need more information or what to see the current ANZ exchange rates are at their website for comparison, please click here
ANZ advertised IMT rates extra "Timer Margin" for Internet Banking
From time to time we perform BER Rate Checks to ensure the advertised rates for Banks and Brokers are accurate.
Results for the ANZ Bank BER Rate Check
The below check was run for ANZ Internet Banking International Money Transfers (IMT) Rates (fx rates advertised at anz.com) on 28/04/2015 and 4/5/2015 (AUD exchange rates).
The rates on both dates and for all currencies were worse than those advertised by ANZ for IMT.
* Note these Advertised IMT Rates already include a margin of between 5% to 6% depending on the currency (from the inter-bank mid-market rate).
| 28/04/2015 | Advertised IMT Rate * | Online Banking Rate | Difference |
| --- | --- | --- | --- |
| USD | 0.7543 | 0.7515 | -0.37% |
| GBP | 0.4939 | 0.4907 | -0.65% |
| EUR | 0.6909 | 0.6825 | -1.22% |
| CAD | 0.9115 | 0.9060 | -0.60% |
| NZD | 0.9934 | 0.9846 | -0.89% |
| HKD | 5.8460 | 5.8031 | -0.73% |
| PHP | 33.340 | 32.790 | -1.65% |
| INR | 47.777 | 47.07 | -1.48% |
| | | | |
| 04/05/2015 | Advertised IMT Rate * | ANZ Online Banking | Difference |
| USD | 0.7507 | 0.7477 | -0.40% |
| GBP | 0.4943 | 0.4905 | -0.77% |
| EUR | 0.6679 | 0.6603 | -1.14% |
| NZD | 1.0035 | 0.9934 | -1.01% |
| HKD | 5.8190 | 5.7767 | -0.73% |
| PHP | 33.481 | 32.900 | -1.74% |
| INR | 47.827 | 46.93 | -1.88% |
BER contacted the ANZ bank to discover the reason for this inconsistency, as incorrect rates will affect the bank positions in the BER comparison table. Please see their response in the comments below.
Feedback@anz.com says:
My understanding of your concern is
You run a website which involves publishing ANZ's foreign exchange rates. However, you have received notice from a number of your customers stating there is a discrepancy between the rate advertised on our ANZ website and the rate provided when they complete a transfer via their Internet Banking account.
You are seeking an explanation to the discrepancy and for feedback to be provided.
What we've done about this
I have investigated your concerns with our International Team who confirms the rate advertised on ANZ.com is a set rate. However, for Internet Banking customers ANZ offers a dynamic rate which changes every few seconds. When completing international transfers online customers are provided ten minutes to lock the rate in.
The feedback provided by you has been forwarded to management for internal review.
Please accept our sincerest apologies for any inconvenience this may have caused you.
BER Team says:
thanks for getting back to us with those details. So we understand that the additional margin being applied to the ANZ Internet Banking exchange rates is a "Timer Margin" to allow for possible exchange rate volatility during the 10 minute timer. This period is to allow the customer to enter the transfer details, beneficiary details etc.
However we would have thought that part of the justification for the on average 5% or 6% margin you are already charging on the exchange rates (from the market mid-rate) would be to cover this volatility?
We understand that this is probably difficult for you to change easily however these additional "timer margins" applied to your advertised IMT rates affect ANZ's ranking in the BER comparison table.
We will need to apply additional margins to your advertised rates to take these extra margins into account.
The Main Points:
ANZ provides extensive foreign exchange services including foreign transfers and holiday money. FX specialists generally specialise in Foreign Transfers or Travel money;
Products available both in-branch and online via their online banking platform. FX specialists will have a stronger online presence but you will be able to talk to a dedicated Foreign Transfer specialist, and for regular or large transfers, you may have an account manager;
ANZ Bank exchange rates are generally poor compared to using an FX specialist.
Bad exchange rates need to be weighed up against ease of use.
On occasion ANZ can offer very good rates especially for Asia currencies.