Like all the leading banks, Westpac Bank offers a wide range of currency related products and services to its customers. If you are a customer of the bank and use internet banking to transfer money overseas then you will be interested to learn how Westpac exchange rates compare to other providers.
If you are looking to send money overseas through an International Money Transfer (IMT) or get travel money, read on to:
Foreign Transfers - How does Westpac Rates & Fees Compare?
Use the below live foreign transfer exchange comparison table that makes it easy to compare Westpac exchange rates to the leading FX specialists. This example shows you the situation where you want to send $AUD 10,000 abroad, note the margins for the bank and brokers are compared to the current mid-rate. Generally you will save between 3% to 5% by using an FX specialist money transfer provider rather than Westpac. You can change the currencies and send or receive amount with our full Westpac foreign transfers calculator.
| Provider | Amounts | Rate | Total Cost | |
| --- | --- | --- | --- | --- |
| | | | | |
| | | | | |
| | | | | |
| | | | | |
Sending Money Abroad with Westpac Compared
Westpac exchange rates basics
Westpac offers several foreign exchange services for the convenience of its clients. Their most sought after products include cash, Travel cards, and International Money Transfers. Although you might feel overwhelmed when you hear terms like foreign exchange rates, international money transfer, loading travel card and so on, you need not worry.
This article will help you gain an insight into the seemingly complex world of foreign exchange rates. Soon, you'll be able to understand and compare the Westpac exchange rates for Travel Money (cash), Travel Cards and International Money Transfers. As a result, you will learn to:
Find the right exchange rate as per your need
To calculate currency conversion by using the exchange rates
Compare the Westpac exchange rates to the rest of the options available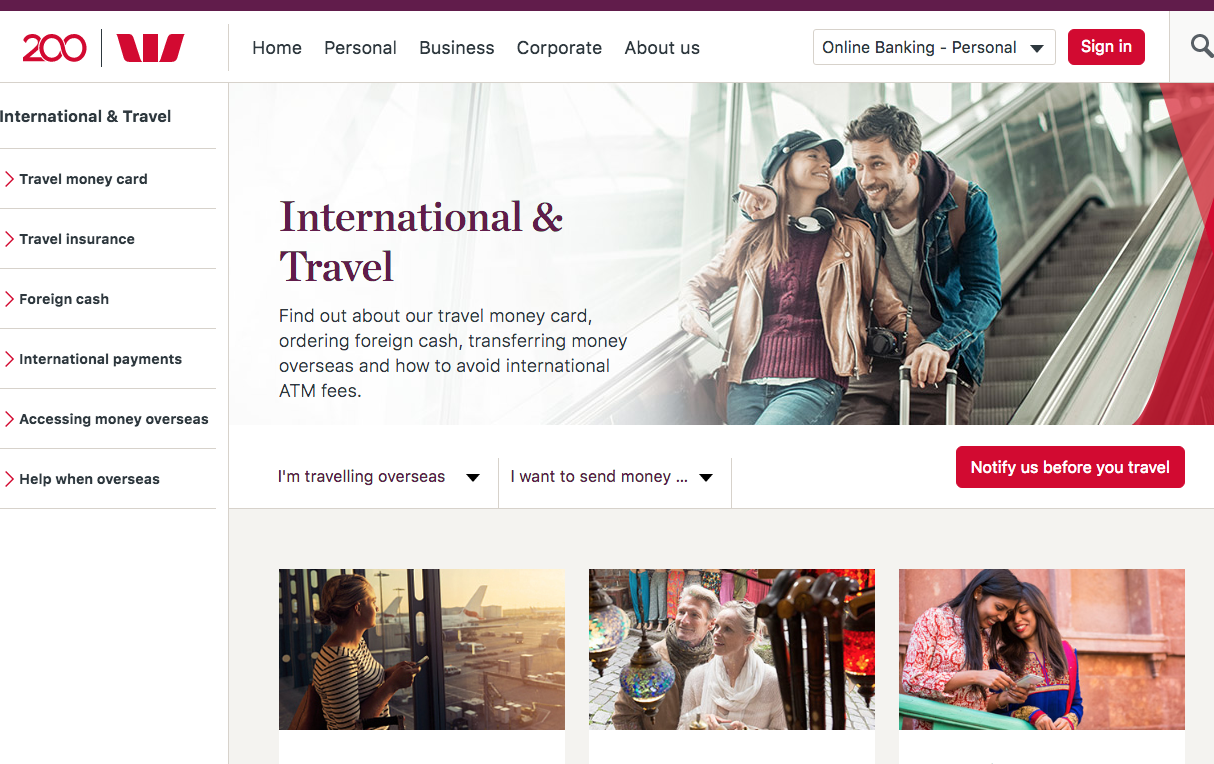 Components that decide exchange rates
In broad terms, exchange rate refers to the value of currency for conversion into another currency. There are three main factors, which decide the exchange rates. They are:
The currency itself
Type of transaction – buy or sell
Product purchased (cash, travel card or bank transfer) Let's now consider each of these factors in detail.
Before you proceed further, take a look at the table below. It lists the exchange rates of various currencies on a given day.

The exchange value largely depends on the currency you wish to buy or sell. As you know which country you'd be travelling to, you'll know the currency you need. For example, if you are travelling to the US, you'll need USD and if travelling to the European nations, you'll need the EURO (EUR). Once you know the currency you need, all you have to do is check the rates relevant to that currency. So, if you are travelling to the US, in the above table, you'll check the row showing rates of USD only. If travelling to the UK, then check the rates of GBP only.
Now that you've identified the foreign currency you need, the next step is to decide what you want to do with it. As you will be travelling to the foreign country, it is obvious that you'll be buying the foreign currency. The exchange rates for buying foreign currency can be found under the column – 'sending money overseas or buying travel money'. As you can see, there are slight differences in the rates offered for each option across a currency.
Alternatively, if you have come back from a trip and have some excess foreign currency with you, you'll wish to sell it. In that case, you'll have to refer to the rates under the column 'Have foreign currency to convert?'  Choose the rates applicable to the foreign currency in your hand for conversion.
Product required
The third factor that determines exchange rates is the type of product you wish to buy. Typically, the rates change according to the product you choose. While buying cash can look like a better option, it might not be wise to carry all the foreign currency in cash. Travel cards are useful and hassle-free but might work out costly. It might not be practical to go for IMT every time you want to buy something. So, the best idea is to use a combination of the three. Carry some cash, load a travel card and arrange for IMT wherever required.
Calculating Westpac Exchange Rates
As you have understood the determinants of exchange rates, let's take it a bit further and see how you can find answers to some common questions raised while calculating the exchange rates.
How much Currency will my money buy?
If you have a certain amount of money you wish to convert, use the following formula to calculate how much foreign currency you will receive:
Australian Dollars with you*exchange rate = Currency You Will Receive
For example, if you have $AUD 1000 and you wish to buy EUR at a rate of 0.6054 then the amount of EUR you will receive is 605.4 (1000*0.6054 = 605.4)
How much AUD would you need to buy a certain amount of foreign currency?
Take another scenario where you know the exact amount of foreign currency you need. In that case, you can find the cost in AUD by using the following formula:
AUD required = Amount of foreign currency you need/ exchange rate
If you need 2500 GBP and the exchange rate is 0.5374, then the amount of AUD you'll need will be 4652.02 (2500/0.5374 = 4652.02)
What is the cost to send a certain amount of currency overseas?
You wish to send a specific amount of currency aboard. What will be the cost in AUD? This scenario is same as buying travel money. So, the formula for calculation would be:
AUD required = Amount of foreign currency you need/ exchange rate
How to calculate the value of currency received from overseas?
While receiving currency from overseas, you can use this formula to calculate how much you will receive in Australian dollars:
Amount of foreign currency received / exchange rate = AUD received
If you received $USD5000 through bank transfer while the exchange rate was 0.7979, you'll receive 6266.44 AUD (5000/0.7979 = 6266.44).
So, you've now seen that currency conversion calculation is easy. All you have to do is match your product with the right exchange rate. In general, the rule would be:
To convert AUD into foreign currency, multiply it by the exchange rate
To convert foreign currency into AUD, divide it by the exchange rate
In this context, you should also remember that the exchange rates vary across the currencies, type of products and the type of transaction. You can use a combination of products to make the best of the rates. Also, it is always better to get your currencies converted at the branch.
For more information on Westpac exchange rates and international travel and transfer services visit Westpac here