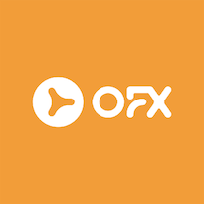 OFX - Review and User Ratings
Considering OFX for Foreign Transfers? Read the BER Review and browse 1413 customer ratings to decide whether they are right for you.
---
OFX was founded in 1998 in Sydney, Australia and since then has grown to be one of the leading international payment specialists. The OFX platform provides a complete online FX solution with market best exchange rates backed up by great customer support.
The Main Points:
OFX is the new unified brand-name for OzForex, USForex, UKForex, NZForex and CanadianForex.
Is one of the largest and most transparent providers
Great customer service and advice
System is available 24/7 online or by phone with teams across major timezones
Rapid transfer of funds as OFX have a large network of banking partners.
---
OFX - Reviewed by BestExchangeRates
OFX Group is a Foreign Exchange Payment specialist specialist international payments service provider with a strong presence in Australia, the United Kingdom, Canada, the United States and countries in Europe and the Asia Pacific.
OFX employs over 350 staff and has offices in Sydney, London, Toronto, San Francisco, Hong Kong, and Auckland with a dealer always available over the phone 24/7 to help clients.
As a referral customer of BestExchangeRates your first two transfers will be fee free along with the following benefits of being an OFX/BestExchangeRates customer :
Extremely competitive exchange rates and transparent pricing for both individuals and business
Spot deals that let you lock in the current rate even before you have transferred any money
Fast, efficient money transfers that can be arranged from anywhere to anywhere in the world
Low flat fee and no fees at all when sending over USD10,000 or equivalent
Expert dealers who can be contacted 24 hours a day, 7 days a week
Access to a feature rich pricing portal with currency tools and charts
Secure and regulated transactions
Specialised Currency Market Research and Commentary.
Promo coupon: Click here for your first two OFX transfers fee free.
---
OFX - How it Works and FAQS
After you register via this promo link (to get your two fee-free deals) the steps to transfer via OFX are as follows:
1. OFX will call you to verify your identity and set up your online account, you can then monitor the rate in real-time.
2. When you are ready to do your transfer you simply login into the OFX website and enter the details (Currency, Amount & Beneficiary Account) and then transfer the FROM amount to the OFX bank account.
3. OFX then send the money to the beneficiary foreign currency account at much better rates than you would get using your own bank.
4. OFX notifies you when the funds have been received into the destination account.
No Cash or Cheques Accepted
OFX does not send cash or allow cash to be paid into its account. Using cash will result in the payment being stopped and the return of funds involves a lengthy process that includes a formal identification process.
OFX does not accept cheques under any circumstances, for any currencies.
Online Sellers - Amazon, Rakuten, Shop.org, Groupon, ebay, trademe ... etc
OFX have a recent focus in supporting sellers in the ever growing eCommerce sector. With the
OFX for Online Sellers solution
, you'll get access to local currency accounts in USD, GBP, HKD, EUR, CAD or AUD for your marketplace or payment gateway to pay into - allowing you to bring funds home or pay suppliers at the best possible rates.
---
Standard Currencies - Send and Receive

AED
United Arab Emirates Dirham
GBP
Pound Sterling
PLN
Polish Zloty
AUD
Australian Dollar
HKD
Hong Kong Dollar
SEK
Swedish Kroner
CAD
Canadian Dollar
JPY
Japanese Yen
SGD
Singapore Dollar
CHF
Swiss Franc
MXN
Mexican Peso
THB
Thailand Baht
DKK
Danish Kroner
NOK
Norwegian Kroner
USD
US Dollar
EUR
Euro
NZD
New Zealand Dollar
ZAR
South African Rand
---
Exotic Currencies - Receive Only

BND
Brunei Dollar
LKR
Sri Lankan Rupee
SBD
Solomon Island Dollar
CNY*
Chinese Yuan Renminbi
MAD
Moroccan Dirham
SCR
Seychelles Rupee
CZK
Czech Koruna
MGA
Malagasy Ariary
TOP
Tongan Pa anga
FJD
Fiji Dollar
MYR
Malaysian Ringgit
TRY
Turkish Lira
HUF
Hungarian Forint
OMR
Omani Rial
TWD
Taiwanese Dollar
IDR
Indonesian Rupiah
PEN
Peruvian Nuevo Sol
VND
Vietnamese Dong
ILS
Israeli Shekel
PGK
Papua New Guinea Kina
VUV

Vanuatu Vatu

INR
Indian Rupees
PHP
Philippine Peso

WST

Samoan Talar

KRW
South Korean Won
PKR
Pakistan Rupee
XOF
CFA Franc
KWD
Kuwaiti Dinar
SAR
Saudi Riyal
XPF
CFP Franc
*Corporate only
Countries
OFX are unable to send funds to the following countries: Afghanistan, Belarus, Burma, Democratic Republic of Congo, Republic of Congo, Cote d'Ivoire, Cuba, Iran, Iraq, North Korea, Lebanon, Liberia, Libya, Rwanda, Sierra Leone, Somalia, Sudan, Syria, Zimbabwe.
OFX Exchange rates
OFX has very competitive rate margins and generally offers the best or close to the best exchange rates in the market. They have a reputation for transparency compared to other brokers and unlike most other brokers you can see in advance on their website what rate customers can expect.
As with all foreign exchange providers their exchange rates get better the more you send, with margins often going under 0.5% once you are sending over $100K. If you have been enabled for Spot Rates, you can agree an exchange rate with OFX so that the rate will be locked in even before OFX receive your deposit and regardless of how the exchange rate evolves.
OFX Transfer Fees
Occasionally, third-party banks may deduct a fee from your transfer before paying your recipient. This fee may vary and OFX receives no portion of it. If you're concerned, simply talk to one of the OFX team members to discuss your transfer as you may need to send extra to account for any possible bank imposed fees.
OFX transfer fees
| Currency | Fee | Fee Free Threshold |
| --- | --- | --- |
| AED | 50 | 30,000 |
| AUD | 15 | 10,000 |
| CAD | 15 | 10,000 |
| CHF | 15 | 10,000 |
| DKK | 20 | 50,000 |
| EUR | 10 | 5,000 |
| FJD | 20 | 15,000 |
| GBP | 7 | 3,000 |
| HKD | 60 | 50,000 |
| JPY | 1,500 | 1,000,000 |
| NOK | 20 | 50,000 |
| NZD | 12 | 10,000 |
| PLN | 15 | 10,000 |
| SEK | 20 | 50,000 |
| SGD | 15 | 10,000 |
| USD | 5 | 5,000 |
| ZAR | 50 | 50,000 |
Time it takes for OFX to receive funds from you
| From | Time |
| --- | --- |
| Australia(AUD) | 1 day |
| Canada (CAD) | 1-2 days |
| Europe (EUR) | 1-2 days |
| Hong Kong (HKD) | 1 day |
| Japan (JPY) | 1-2 days |
| New Zealand (NZD) | 1 day |
| Singapore (SGD) | 1 day |
| USA (USD) | 1-2 days |
| UK (GBP) | 1 day |
---
Time it takes for the funds to reach your recipient
| From | Time |
| --- | --- |
| Australia(AUD) | 1 day |
| Canada (CAD) | 1-2 days |
| Europe (EUR) | 1-2 days |
| Hong Kong (HKD) | 1-2 days |
| India (INR) | 2 days |
| Japan (JPY) | 1-2 days |
| New Zealand (NZD) | 1 day |
| Singapore (SGD) | 1 day |
| Thailand (THB) | 4 days |
| USA (USD) | 1 day |
| UK (GBP) | 1 day |
Spot Deals
OFX are unique amongst the Online currency payment vendors in that they provide Online Spot Deals (for selected customers) that allow you to lock in the currency rate at deal entry time rather than waiting for your money to get into their bank account. This avoids any uncertainty about what rate you'll get and is especially useful when the market is moving fast and you want to lock in your rate.