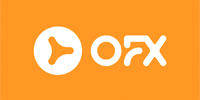 OFX at a glance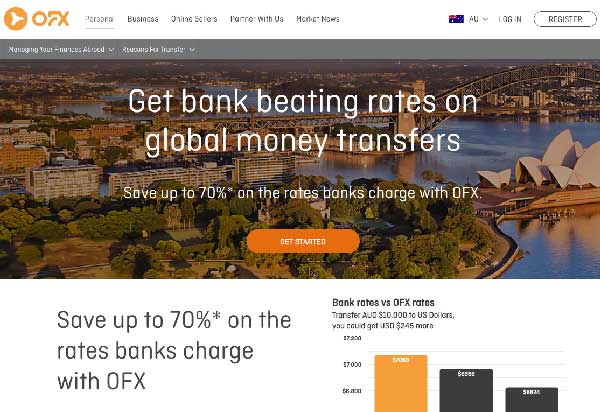 OFX has a 20-year history and is one of the largest foreign exchange specialists in the world. It offers a complete foreign exchange solution, including discounted money transfers, currency hedging tools, recurring transfers, a multi-currency account for online sellers and much more.
Book & track your foreign transfers online (24/7) with industry best rates for all your deals - not just the first one! Lock in exchange rates with Spot & Forward Deals.
Their transactions are transparent, unlike most banks. Also, as the rates are displayed on the site, customers can see what rates they can expect.
How much does it cost?
Transfer Fee: OFX usually charge a flat fee for smaller amounts, but if you click on the link below or mention that you are a BestExchangeRates customer, then your transfers will be fee free.
Exchange Rate: OFX add a margin to the exchange rate when they convert your money. OFX exchange rates are highly competitive for global money transfers – either the best or very close to the best exchange rates prevailing in the market.
How to transfer money with OFX
Create a free online account and login to get a live quote for your transfer.
Enter your recipients details including bank account, financial institution number, account number and branch transit number.
Click 'Finalise transaction' and then pay for your transaction using a bank or wire transfer.
How long does it take?
Once OFX receive your payment the transfer recipient will receive the converted funds into their account in 1-2 business days.
Is OFX safe?
Yes they are. OFX is regulated in each country that they operate. See our full review of OFX for more information.
Use OFX for:
Good exchange rates and lock-in rate for larger amounts
24/7 local phone support
Good Mobile phone app
BestExchangeRates users get the transfer fees waived.
Great OFX Services for Online Sellers
OFX is an Amazon Payment Services Provider. Also receive payments from Afterpay, Klarna, Zip and more. You can collect your online seller global revenues in USD, EUR, GBP, CAD, AUD, SGD and HKD.
For more details on OFX exchange rates, service and what their users think read our guide OFX Foreign Transfers Reviewed.
Compare OFX Exchange Rates
The below comparison table makes it easy to calculate the Total Cost you are being charged from

OFX and the possible savings of using other FX providers.
---
BER partners are the best & most trusted FX brands
We also compare popular bank exchange rates