OFX at a glance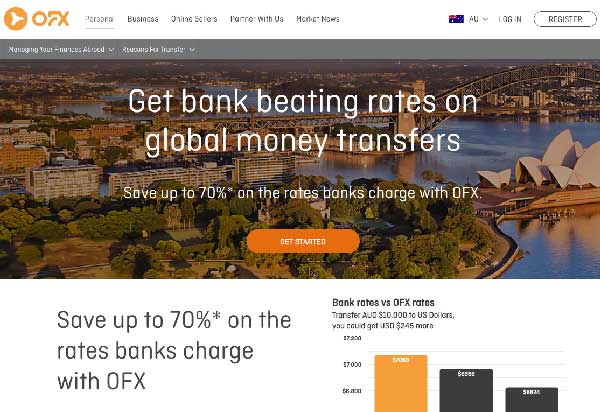 OFX has a 20-year history and is one of the largest foreign exchange specialists in the world. It offers a complete foreign exchange solution, including discounted money transfers, currency hedging tools, recurring transfers, a multi-currency account for online sellers and much more.
OFX grew from the idea that there had to be a better, fairer way to move money around the world. That was over 20 years ago, and since then over 1 million customers have trusted OFX with transfers in 50+ currencies to over 170 countries.
OFX don't just offer great rates, they believe real help from real people counts. That's why their clients get the best of both worlds – a seamless digital platform, combined with 24/7 phone access to currency experts.
When it comes to moving money, peace of mind is important. OFX is monitored by over 50 regulators globally and work within a network of carefully selected banking partners. So whether you are sending money to friends and family abroad, or doing business across borders, OFX can get your money where it needs to go. Fast, simple, secure.
How much does it cost?
OFX Exchange Rates - is a very competitive foreign exchange exchange that OFX use to move your money from one currency/country to another. It includes a small (bank-beating) margin. If you register to be an OFX customer through the BestExchangeRates partner page, you'll receive preferential FX rates.
OFX Fees - OFX has one standard fee of AUD$15 for transfers under AU$10,000. If you're transferring more than AU$10,000, OFX won't charge you a transfer fee. Occasionally, third-party banks may deduct a fee from your transfer before paying your recipient. This fee may vary, and OFX receives no portion of it. If you register through the BestExchangeRates partner page, your transfers will be fee free *.
How long does it take?
OFX's global network of banking partners enables them to move your money efficiently, through some of the fastest payment schemes available globally.
OFX processes most major currency transfers within 1-2 business days from the time funds are received. Exotic currencies may take a little longer, but OFX keeps their clients updated along the way with email notifications when funds are received and paid out to the recipient.
You can also opt-in for SMS updates or even track your transfer with OFX by logging in online or on the OFX app.
Is OFX safe?
Yes they are. OFX is an ASX listed company and is monitored by over 50 regulators globally.
OFX believes everyone deserves peace of mind when moving money globally, so maintaining and improving systems that help protect their clients' money is crucially important to them. OFX is committed to researching, developing and adopting leading digital security technologies to provide their clients with a safe and secure money transfer service.
See our full review of OFX for more information.
A Trusted Foreign Exchange Specialist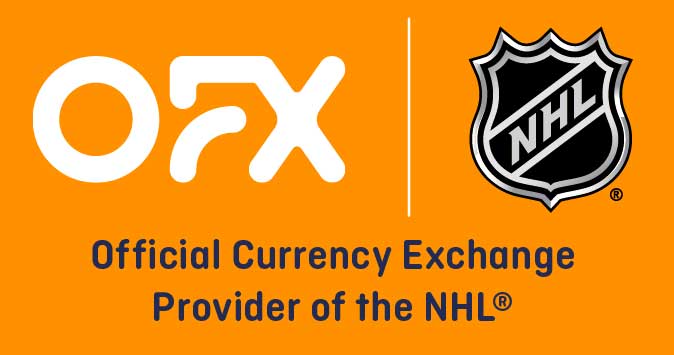 As the Official Currency Exchange Provider in the USA and Canada to the NHL®, OFX manages a portion of the NHL's currency exchange requirements and promises to move NHL fans' money with great exchange rates.
NHL and the NHL Shield are registered trademarks of the National Hockey League. © NHL 2022. All Rights Reserved.
Great OFX Services for Online Sellers
OFX is an Amazon Payment Services Provider. Also receive payments from Afterpay, Klarna, Zip and more. You can collect your online seller global revenues in USD, EUR, GBP, CAD, AUD, SGD and HKD. Click here to find out more.
For more details on OFX exchange rates, service and what their users think read our guide OFX Foreign Transfers Reviewed.
*Minimum transfer AU$250. Please note that the receiving bank or intermediary bank may charge fees on transactions. There are zero OFX fees on transactions. OzForex Limited (trading as OFX) regulated by ASIC (AFS Licence number 226 484) | ABN 65 092 375 703 | Member of the Australian Financial Complaints Authority (AFCA).
You Can Save Money when you Compare OFX Exchange Rate Margins & Fees
The below comparison table makes it easy to calculate the Total Cost you are being charged on your currency transaction by

OFX versus the market mid-rate. It is easy to calculate any savings available from popular market-leading FX providers.
Loading comparison rates...
| Provider | Amounts | Rate | Total Cost | |
| --- | --- | --- | --- | --- |
| | | | | |
| | | | | |
| | | | | |
| | | | | |
---
Is the US dollar expected to go up for down?
This is always a difficult question as exchange rates are influenced by many factors, so a good method to consider the US dollar current value is to look the USD performance against a range of other currencies over various time periods.
The following table looks at the performance of the USD exchange rate against other currencies over time periods from the previous 2 days back to the last 5 years.
---
BER partners are among the best & most trusted FX brands