[crfp enabled="2″ displayStyle="grey" displayAverage="1″ averageRatingText="XE Money Transfer – Total Rating:" displayTotalRatings="0″ totalRatingsBefore="" totalRatingsAfter="" displayBreakdown="1″ displayRatingNumber="0″ filterComments="0″ displayLink="1″ id="" cssID="" cssClass=""]
Summary
Established in 1993, XE.com quickly became the world's most viewed currency site. Now, under the ownership of Euronet (a NASDAQ-listed company), XE is among the largest transfer specialists in the world.
XE's foreign exchange margins are razor thin, and as such it is currently offering extremely cheap transfers to bank accounts in more than 100 countries (you'll need to sign up via a BestExchangeRate links to get XE's most exclusive rates).
XE allows customers to book transfers online on a multi-language platform and over the phone, and in most cases funds will be received in recipient bank accounts within a single working day.
XE is suitable for both small and large payments and is sufficiently sophisticated for business customers, who can benefit from FX forwards and options, mass payments and even credit facilities to accommodate deliverable hedging.
XE doesn't guarantee exchange rates seen on screen at the time bookings are made, which means that received funds could be slightly different to what's expected. Limit orders are available to partially counter this problem.
Positive
Excellent exchange rates
Most transfers completed within one working day
Customer support in English, French and Spanish
Toll-free phone support
Online platform available in 11 languages
No minimum or maximum transfer size
Service is backed my NASDAQ-listed company
Book transfers online and over the phone
FX forwards and options
Limit orders
Negative
Exchange rates aren't guaranteed
Can only pay for transfers with a bank transfer or BPay
No cash collection; transfers to bank accounts only
XE Products
Spot Transfers – Lock in the exchange rate when you are ready to make your transfer
Forward Contracts – Lock in the exchange rate today for future transfers. Transfer anytime at your locked rate within 3 years
Market Orders – If you are targeting a specific rate, pick a rate and transfer automatically when the market hits your desired rate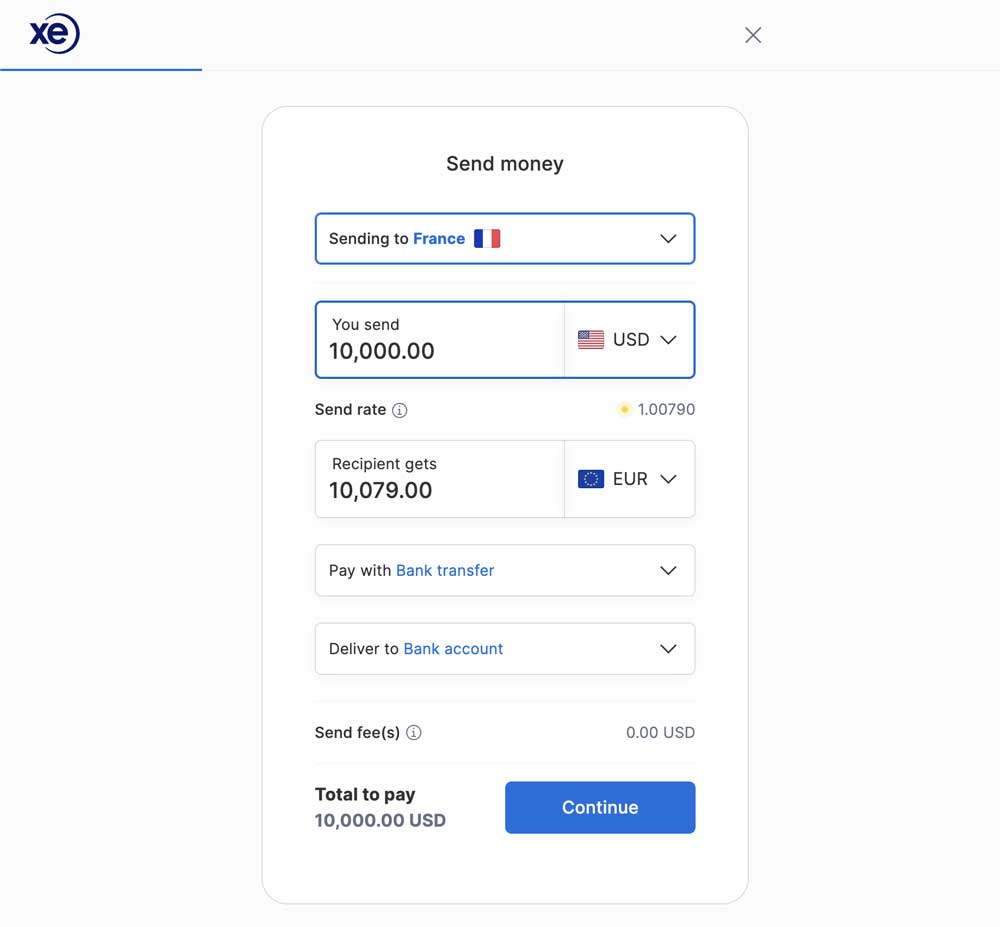 What Savings Can I Expect?
XE consistently ranks as the cheapest or joint-cheapest foreign exchange provider for major currency routes that we monitor. When you sign up for XE via BestExchangeRates, you'll be guaranteed razor thin margins on all your overseas transfers.
XE's "no fee" policy means that all transfer costs are contained within the company's exchange rates. Like nearly all other firms, XE manipulates the interbank (or "mid-market") exchange rate to guarantee itself a profit, but in this case we absolutely cannot complain because the rates offered are outstanding.
To give you an idea: the total cost of sending $10,000 to the UK, Europe, India, Malaysia, Thailand and many other countries could cost 5-10 times more when handled by well-known banks.
XE's costs are similar to those levied by OFX (another excellent foreign exchange company), and are slightly cheaper than TransferWise for larger amount. They are perhaps half as costly as WorldRemit except for smaller amounts or exotic currencies.
Are XE's Exchange Rates Guaranteed?
No, XE doesn't guarantee the exchange rate seen on screen at the time a transfer order is created. This is a small negative for the service, since it means that received funds could be slightly different to what's expected.
When a particular exchange rate is needed, XE's limit orders are useful. XE literature sometimes calls these "market" orders (they are technically "market if touched" orders) and customers frequently use the term "putting a bid in [for a rate]" to describe this approach.
XE Money Transfer Rates & Fees - Compared
Loading comparison rates...
| Provider | Amounts | Rate | Total Cost | |
| --- | --- | --- | --- | --- |
| | | | | |
| | | | | |
| | | | | |
| | | | | |
How Long Will My Transfer Take?
In most cases, after XE receives your funds, these will usually arrive at the destination bank account within one business day; however, some transfers might take as long as four business days. The precise timing will depend on which currencies are involved, the time of day you make your transfer and on the timing of national holidays.
How Do I Pay for My Transfer?
XE can only accept payment via bank transfer and in Australia, via BPay. Cards are not accepted.
Minimum / Maximum Transfer Size
XE has no restrictions. There's no minimum transfer size, making it a great choice for small payments, but it can also handle massive sums — that means "unlimited" if booking transfers over the phone and USD500k if booking online.
Is Money Safe with XE?
Absolutely!
The regulatory bodies under which XE operates ensure that the company meets high standards in its efforts to safeguard customer funds. In 2019, XE was regulated by FINTRAC (Canada), FinCEN (the US), ASIC (Australia) and the FCA (UK), among others.
XE's financial position is undeniably rock solid, especially since 2015 when XE joined the Euronet family — a multi-billion dollar, NASDAQ-listed company.
XE makes use of Euronet's payment technology which is trusted by over 200 financial institutions and some of the world's leading brands, including Google, Apple and Amazon.
Customer Service
XE's customer support options are solid. The company's multilingual staff will support you over the phone or via email in English, French and Spanish.
XE offers toll-free and local phone lines for the US, Canada, the UK, Australia and New Zealand.
How much can you send online with XE
For your security, XE have limits on how much you can send in a single transfer online.
| | |
| --- | --- |
| Your region | Online transfer limit |
| UK & Europe 🇬🇧🇪🇺 | GBP 350,000 |
| United States 🇺🇸 | USD 535,000 |
| Canada 🇨🇦 | CAD 535,000 |
| Australia & New Zealand 🇦🇺🇳🇿 | AUD/NZD 750,000 |
Sending Larger Amounts with XE
Xe has a dedicated team ready to help you with large transfers. Since if you're sending large amounts of money, you may need some extra assistance.
If you send more than $50,000 USD a year (or local currency equivalent) you are eligible for this service.
Here are just a few things the team can help you with:
Support with setting up large transfers
Set up a forward order to lock in the current send rate for up to 24 months
Create market orders to enable you to send money when a target rate is achieved
Create a regular payment for making regular, automated transfers with fixed rates, just like your usual direct debits
What Do Users Think of XE Money Transfer?
XE is among the highest rated transfer services on popular review sites. On TrustPilot, for example, more than 85 percent of the 30,000 XE reviewers gave the service a 5-star rating.
Most negative feedback is centred on the lack of an exchange rate guarantee (see 'Are Exchange Rates Guaranteed?') and, in rare cases, on long waiting times for account approval.
Visit XE Money Transfer
---
Disclaimer: Please note any provider recommendations, currency forecasts or any opinions of our authors should not be taken as a reference to buy or sell any financial product.