OFX: A Summary
OFX has a 20-year history and is one of the largest foreign exchange specialists in the world. It offers a complete foreign exchange solution, including discounted money transfers, currency hedging tools, recurring transfers, a multi-currency account for online sellers and much more.
OFX is highly regulated and its 1 million customers now benefit from true 24/7 phone support.
Though OFX clearly offers bank-beating FX costs, it is slightly more expensive than some other services in the market, particularly for more exotic currencies.
Positive
Bank-beating exchange rates
Low minimum transfer sizes for AUD, CAD & HKD/SGD (250AUD, 200CAD, 150USD)
Place transfer orders online or by phone
Excellent 24/7 customer service
Longstanding company with vast FX experience
FX forwards, bulk and recurring payments
80 percent of money transfers completed within 1 business day
Member of Amazon Payment Services Provider Program
Negative
Transfers to bank accounts only
Higher minimum transfer sizes for USD & GBP/EUR (1000USD, 500GBP, 500EUR)
Limit orders for large transfers only ($30,000, £20,000 etc.)
OFX Rate Calculator

Note the margin in the below tool is compared to the current mid-rate for the selected currency pair. You can compare OFX rates change the currencies and send or receive amount with our full OFX Foreign Transfer calculator. This shows you how much you could save on your next foreign transfer by using a broker such as OFX rather than your bank.
| Provider | Amounts | Rate | Total Cost | |
| --- | --- | --- | --- | --- |
| | | | | |
What Savings Can I Expect?
OFX offers exchange rates that put the banks to shame, and are close or equal to the rates offered by the industry's lowest-cost services.
With OFX, the cost of sending, for example, 5,000 Australian dollars to the US equates to 0.5 percent of the transferred amount, or roughly A$25. You'd pay the same 0.5 percent for the same amount to be sent to Europe and around 1 percent if sending to India. This compares with 4–7 percent with the banks.
For other currency routes we looked at (routes involving AUD, INR, GBP, EUR, SGD and USD), the average cost of an international payment with OFX was 0.6 percent of the transferred amount. This is exceptional if compared with banks but can be a little more expensive than what is charged by the industry's lowest-cost services, although such services do not offer the same benefits and customer service as OFX.
IMPORTANT: For BestExchangeRates readers, OFX will waive its fixed transfer fee permanently, so be sure to sign up via one of our links.
Be aware that transferred funds might be subject to a third-party bank receiving fee. Such fees are entirely out of OFX's control and OFX receives no part of them. You can phone OFX's support line to seek further information on third-party fees.
Is Money Safe with OFX?
The short answer is "yes" — as safe as it can be.
OFX deploys top-notch security systems, is highly regulated and has an inherently low-risk business model, which means that it offers a deliverable-only FX service and does not take positions in the markets, thereby eliminating market risk.
As for your money, this is held separately from OFX's own funds in a major financial institution.
As part of its account-protecting technology, OFX deploys algorithms that monitor registrations, logins and transactions to identify suspicious activity, and other tech includes a multi-layered fraud prevention system that works against phishing, malware and apps that might target customer accounts.
Needless to say, SSL encryption is used to keep your information safe from prying digital eyes.
OFX is regulated by more than 55 different financial authorities, including the Australian Securities and Investments Commission (ASIC) and the UK's Financial Conduct Authority (FCA).
A Trusted Foreign Exchange Specialist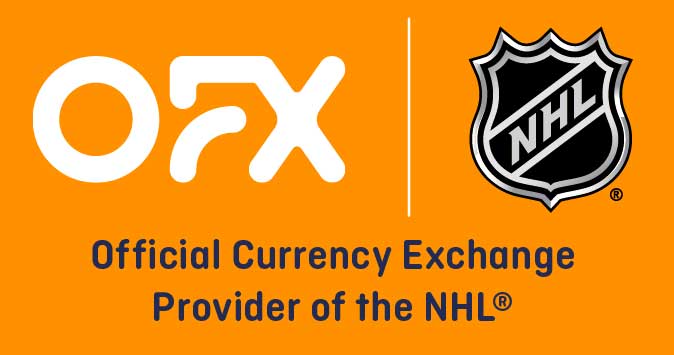 As the Official Currency Exchange Provider in the USA and Canada to the NHL®, OFX manages a portion of the NHL's currency exchange requirements and promises to move NHL fans' money at hockey speed with great exchange rates. NHL and the NHL Shield are registered trademarks of the National Hockey League. © NHL 2022. All Rights Reserved.
How Long Will My Transfer Take?
After OFX receives your funds, these will usually arrive at the destination bank account within 2 business days. 80 percent of OFX transfers are received within 1 business day.
Minimum / Maximum Transfer Size
OFX has low minimums. You can transfer any amount above AUD 250 or GBP 100 or local currency equivalent.
The maximum amount you can transfer depends on the currency being sent. Major currencies like USD, GBP, AUD, CAD, EUR and NZD can usually be transferred freely, and OFX can handle billions worth of these. However, controlled currencies like the Chinese yuan, South African rand and South Korean won might be subject to government restrictions.
Support for Online Retailers: Multi-Currency Accounts
OFX has recently added support for online sellers on Amazon, eBay, Newegg, Buy.com, Shop.com and many other marketplaces. This support comes in the form of the OFX Global Currency Account, which provides local currency accounts for each of the following: USD, GBP, HKD, EUR, CAD and AUD.
OFX is one of Amazon's approved Payment Service Providers making it safer to use OFX for all your Amazon store sales. This new program is designed to protect both Amazon customers and sellers from fraud and abuse.
Funds from your marketplace or payment gateway can be paid straight into a Global Currency Account and suppliers can also be paid at the best possible exchange rates. With such an account, your online business can avoid a great deal of the unnecessary back-and-forth FX charges associated with cross-border trade. Visit OFX for Online Sellers.
Advanced Features: Forwards, Limit Orders, Bulk and Recurring Payments
OFX provides a number of risk and FX management features that businesses will appreciate.
Forward contracts are an effective way of managing foreign currency exposures for those who stand to lose significant amounts if exchange rates move against them in the coming days or months (up to 12 months). A forward buyer can lock in an exchange rate today for a transfer that will be paid for in future. Once you've signed up with OFX, give one of their reps a call to discuss your unique hedging requirements.
Bulk payments, such as those needed for payrolls, are easily done using Multipay, which allows for 500 payments to be sent at once.
Limit orders allow users to convert money at exchange rates better than today's. Once a desired rate has been specified, OFX systems will monitor the FX market on a user's behalf, triggering money transfers once the market rate matches the desired rate. A downside of this feature is that it comes with a minimum transaction size of AUD 30,000 or GBP 20,000 (varies by currency).
Recurring transfers are available, such as those needed for overseas mortgages. With OFX, a payment plan can be set up at a fixed, agreed-upon exchange rate so you know exactly what you're spending each month.
Tax Payments to the ATO
Paying the Australian Tax Office from overseas is easy with OFX. OFX has a connected payment service with the ATO meaning payments can now be paid in multiple currencies and reconciled directly using the ATO's unique "PRN" (Payment reference Number) straight from the OFX platform. Read more in our Review of the OFX ATO service.
Find out more and register at OFX ATO Payments.


Customer Service
Customer service at OFX is 24/7 and support options are excellent. These include 10 national phone lines reaching support staff in 7 countries, email support and an extensive FAQ section on the main site.
Though there are disappointed customers to be found online, as there are with any service, the bulk of OFX customers (we estimate 80 percent) report highly professional support when things go wrong, with adjectives like "thorough," "understanding," "prompt" and "knowledgeable" used to describe OFX staff.
OFX outlines a complaints policy on its site but be aware that a final response to complaints might take as long as 45 days, which is longer than we'd like.
What Do Users Think of OFX?
At the time of writing this review (June 2019), more than 3,000 of the 3,500 Trustpilot reviewers had rewarded OFX a 5-star rating, and that should speak volumes. As you'd expect from any top firm in the payments industry, common themes within reviews relate to: "great exchange rates," "excellent service," "better than the banks," "quick service" and "easy to get hold of," among others.
More OFX Articles
---
Disclaimer: Please note any provider recommendations, currency forecasts or any opinions of our authors should not be taken as a reference to buy or sell any financial product.