Wise at a glance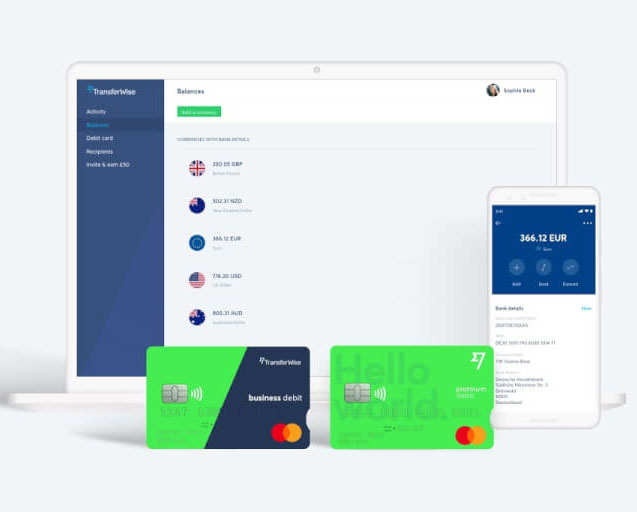 Wise (formerly TransferWise) always aim to convert money at the real mid-market exchange rate. There's just a small, fair service fee, and it's all shown up-front, this fee normally works out to be less than 1% of the amount being exchanged.
Exchange guaranteed within 2 business days - Pay via Bank Transfer or VISA/Mastercard debit cards.
Setup Direct Debits to Pay Bills abroad from AUD, CAD, EUR, GBP and USD accounts.
Multi-currency Accounts: Regardless of which country you live in, with a Wise Borderless Account you receive a unique set of GBP, EUR, USD, AUD, NZD, SGD, RON, CAD, HUF and TRY account details with which you can get paid like a local. Together with an account number, you'll receive a SWIFT, BSB, routing and/or sort code and anything else needed to receive funds in those currencies.
Read our Review of Wise Borderless Account.
The Wise debit card are free to set up and use. And there's never any monthly fee and minimum balance to worry about.
You get two free ATM withdrawals worldwide up to a max amount every 30 days, then a charge on additional withdrawals.
Auto-convert any currency - Spend in any currency and the Wise smart tech will auto-convert it with the lowest possible fee.
Unlike practically all other Travel cards you can pay foreign currency into this card via your own personal foreign bank accounts.
For more details on Wise exchange rates, service and what their users think read our guide Wise Foreign Transfers Reviewed.
You Can Save Money when you Compare Wise Exchange Rate Margins & Fees
The below comparison table makes it easy to calculate the Total Cost you are being charged on your currency transaction by

Wise versus the market mid-rate. It is easy to calculate any savings available from popular market-leading FX providers.
Loading comparison rates...
---
Is the Australian dollar expected to go up or down?
This is always a difficult question as exchange rates are influenced by many factors, so a good method to consider the Australian dollar current value is to look the AUD performance against a range of other currencies over various time periods.
The following table looks at the performance of the AUD exchange rate against other currencies over time periods from the previous 2 days back to the last 5 years.
---
BER partners are among the best & most trusted FX brands