Wise at a glance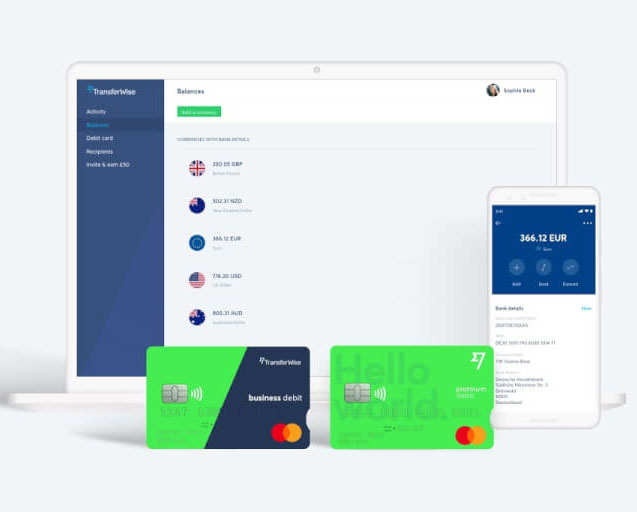 Wise (formerly TransferWise) always aim to convert money at the real mid-market exchange rate. There's just a small, fair service fee, and it's all shown up-front, this fee normally works out to be less than 1% of the amount being exchanged.
Exchange guaranteed within 2 business days - Pay via Bank Transfer or VISA/Mastercard debit cards.
Setup Direct Debits to Pay Bills abroad from AUD, CAD, EUR, GBP and USD accounts.
Multi-currency Accounts: Regardless of which country you live in, with a Wise Borderless Account you receive a unique set of GBP, EUR, USD, AUD, NZD, SGD, RON, CAD, HUF and TRY account details with which you can get paid like a local. Together with an account number, you'll receive a SWIFT, BSB, routing and/or sort code and anything else needed to receive funds in those currencies.
The Wise debit card are free to set up and use. And there's never any monthly fee and minimum balance to worry about.
You get two free ATM withdrawals worldwide up to a max amount every 30 days, then a charge on additional withdrawals.
Auto-convert any currency - Spend in any currency and the Wise smart tech will auto-convert it with the lowest possible fee.
Unlike practically all other Travel cards you can pay foreign currency into this card via your own personal foreign bank accounts.
What Savings Can You Expect?
Savings on Wise money transfers are substantial relative to banks and traditional money changers, although the amounts saved will of course depend on how much is being transferred.
Wise advertises that its transfers are "up to 8 times cheaper" than those performed by banks, but what does that mean in real currency terms? How many dollars, pounds, francs or pesos are we talking about? Let's take a look.
Using BER's Foreign Transfers comparison table, below, we'll pretend we're sending 5,000 British pounds to the US. Given exchange rates at the time of writing, if sending via Wise, the recipient of funds would receive US$6,501 (rounded to the nearest dollar). If sending at the average bank rate, the received amount drops to only US$6,317, for a saving of US$184. If we bump up the transfer amount to £25,000, savings rise to US$1,026! Who wouldn't want an extra thousand bucks in their pocket?
When compared with other FX specialists, Wise consistently ranks near the very top for savings on international payments, across a range of currencies and amounts.
Although Wise won't be the absolute cheapest on every currency route, it will at least show you exactly how much you are being charged in currency terms before you make your decision, which is more than can be said for banks or traditional money changers, who hide all sorts of charges within the exchange rates offered.
Loading comparison rates...
Are Wise Exchange Rates Guaranteed?
Yes, for a fixed time.
After creating your money transfer order, Wise will lock in the displayed exchange rate for a 24 or 48-hour period, depending on the currencies in question. As long as Wise receives your funds within that window, it guarantees that the receiving account gets exactly what was shown at the time you created the transfer order. In all cases, you will be told for how long your guarantee is in place at the time you create the order—this will be shown next to the exchange rate.
Should you fail to provide funds quickly enough, Wise will amend your transfer order to reflect the new mid-market exchange rate, which might be to your benefit or detriment.
As for weekends, when most banks don't process transfers, these are ignored. For example, if you create a EUR to GBP transfer (a 48-hour rate guarantee) at 5pm on a Friday, Wise will guarantee the exchange rate so long as funds are received before the same time on Tuesday.
The exception to the above comes with GBP payments. Because most banks in the UK do process transfers on the weekend, Wise will include weekend days. For example, a GBP to EUR transfer (a 24-hour rate guarantee) created on Friday at 5pm will be guaranteed until 5pm on Saturday.
How Long Will My Transfer Take?
After Wise receives your funds, these will usually arrive at the destination bank account within two business days (many transfers will be same-day), although it can take longer depending on the currencies involved (additional security checks may be required), on the time of day you make your transfer and on the timing of national holidays.
Before you confirm any order, Wise gives you a chance to review it, and this review includes the "should arrive by" date.
Is Wise Safe?
Readers will be pleased to learn that Wise is a highly regulated firm. As of 2019, it is regulated by financial authorities in the US, UK, EEA, Singapore, New Zealand, Japan, Australia, Hong Kong and Canada.
Importantly, in order to meet the requirements of regulators, Wise must separate your money from theirs, which means that in the highly unlikely event that Wise goes to pot, your money will be returned.
Wise deploys a number of measures aimed at protecting your account; these include a 2-step login and Transport Layer Security encryption to protect transactions and all communications with the company. Wise also monitors accounts and customer profiles for unusual activity.
How Can I Send and Receive Funds?
For the majority of currencies, you will need to send funds to Wise from a bank account. For some currencies, you will be offered alternative funding methods including debit and credit cards (Visa, Mastercard and Maestro), Apple Pay or Android Pay, and if you are in one of the participating European countries, SOFORT. Be aware that alternative funding methods may incur additional charges.
A Wise limitation is that funds must be paid into a bank account.
Transfer Limits
Transfer limits will only affect a small minority of Wise customers (the send/receive limit for euro transfers, for example, is €1.2 million). In all cases, Wise will tell you when you've exceeded its limits via an error message at the time you create your transfer order.
Transfer limits are unique to each currency, so for further information either contact Wise or search within the company's online Help Centre. Be sure to check limits for both currencies since Wise will apply the lowest of these.
Daily fee for holding large amounts
Wise charge a daily fee for holding large amounts in your currency accounts, the maximum free amounts and fees that are then charged depend on the currency.
For excample you can hold up to the following amounts for free:

AUD — 23,000
EUR — 15,000
GBP — 13,000
USD — 18,000
If you go over your free allowance for more than 3 days, Wise will start charging the annual fee of 1.6%. This is equivalent to approximately 0.00437% daily.
Customer Service
Wise offers email support and 13 national phone lines for support in your language.
Be aware that Wise phone support is not available 24/5. Each of the local phone lines will be available on business days only and for its own unique hours; these are displayed after you select your region on Wise's 'Contact Us' page.
A slight knock on the Customer Service front is that Wise's Live Chat feature seems to be continually unavailable.
BER research indicates that roughly 75 percent of Wise users who had cause to contact customer service were happy with their experience, which is in line with the industry average.  Roughly a quarter of those with issues claim that customer service was unsupportive or that emails weren't replied to.
Wise Borderless Account (Multi-Currency)
Another impressive service offered by Wise is the Borderless Account. This allows users to hold and convert funds in 40 different currencies, and make and receive payments in those currencies with the same excellent exchange rates (the real, mid-market rates) and low fee structure that comes with Wise's basic money transfer service. The account costs nothing and there is no minimum balance.
Regardless of where you're living in the world, with the borderless account you'll receive local GBP, EUR, USD, AUD, NZD, SGD, RON, CAD, HUF and TRY bank details—you'll get a personal account number, SWIFT and sort code, and everything else needed to receive funds in those currencies with no fees whatsoever!
Users get a multi-currency Mastercard debit card linked to their Wise borderless account, with contactless payment functionality. When travelling with the card, users can choose which currency to pay in and will always receive the mid-market exchange rate on all spending.
Wise levies no transaction fees on Mastercard payments, no matter where you are in the world, and for every 30-day period the company offers free cash withdrawals at overseas ATMs on the first GBP200 withdrawn or local currency equivalent, beyond which you'll be charged a static 2 percent. Be aware that for overseas cash withdrawals Wise customers might incur charges from local banks but this is no different to anybody else and you're usually warned of these before you withdraw.
For a more in-depth look you can read our BER Review - Wise Borderless Account.
Wise Debit Card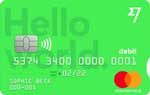 A market leading multi-currency debit Mastercard with Zero foreign transaction fees plus no annual fees and low currency conversion fees.
The Wise account and debit card are free to set up and use. And there's never any monthly fee and minimum balance to worry about.
Free ATM withdrawals worldwide up to $350 every 30 days then a 2% charge on additional withdrawals.
Auto-convert any currency - Spend in any currency and the Wise smart tech will auto-convert it with the lowest possible fee.
Unlike practically all other Travel cards you can pay foreign currency into this card via your own personal foreign bank accounts (AUD, EUR, GBP, NZD, USD).
Using your Wise card to send money.
These transactions cost more money to process than others and are treated like a cash advance. So, Wise charge a fee of 2% of the transaction amount on certain currencies when you use your Wise card to send money to e-wallets or other accounts which can be converted to cash (including, but not limited to, casino chips, cryptocurrencies and lottery tickets).
What Do Users Think of Wise?
As of September 2023, user reviews are overwhelmingly positive.
On one popular review site, more than 85 percent of the 57,000 Wise users gave the company a 5-star rating; only 3 percent said they had a "bad" experience.
Recurring themes within reviews relate to "fantastic service," "awesome rates," "super fast" and "easy transfers."
Positive
One of the cheapest services around
Fast sign-up and verification
Broad coverage
Plenty of customer service options
Highly rated by customers
Negative
Transfers to bank accounts only
No dealers to discuss orders with
Fees to leave larger balances in Wise
Wise (TransferWise) takes a machete to the hefty fees that banks levy to send money across borders. — The Economist.

Visit Wise and Save
---
BER partners are among the best & most trusted FX brands