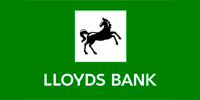 Lloyds at a glance
There are two ways for Lloyds customers to Send Online Money Transfers these are via the Currency Internet Banking platform or within Sterling Internet Banking.
Both these services are available 24/7. However Lloyds only process the payments during normal banking hours so if your rate was not booked then the final rate may differ depending on the market.
Lloyds state that they don't charge extra fixed fees for Online overseas transfers. However, the true cost is in the exchange rate margin (see comparison table above) plus any correspondent and recipient bank charges.
Extra Fees for Branch and Telephone: less than £5,000 is £20 and £5,000 or over is £35
For more details on Lloyds exchange rates, service and what their users think read our guide Lloyds Bank Foreign Transfers Reviewed.
Compare Lloyds Exchange Rates
The below comparison table makes it easy to calculate the Total Cost you are being charged from

Lloyds and the possible savings of using other FX providers.
---
BER partners are the best & most trusted FX brands
We also compare popular bank exchange rates