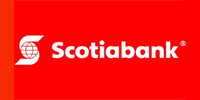 Wire Transfer Send/Receive Fees
Send money internationally as a direct deposit to your family or friends using your mobile app or online banking

$1.99*/transfer on select accounts

Each automatic pre-arranged transfer of funds between your Scotiabank personal Canadian Dollar deposit account (debit transaction fee applies)
Free
Each manually processed pre-arranged transfer of funds between your Scotiabank personal deposit accounts (debit transaction fee applies where applicable)
$1.50
Each transfer by branch staff between your Scotiabank personal deposit account due to telephone/fax/mail request, or to cover cheques (debit transaction fee applies)
$4.50
(optional Advice $5.00)
Transferring a Scotiabank account balance to another financial institution
$20.00
Incoming Wire Transfer fees
Incoming Wire Transfer identified as a Pension Payment in the payment message
$1.50 per transfer*
All other Incoming Wire Transfers
$15.00 CAD/USD per transfer*
* All fees are charged in the currency of the account.
Scotiabank FX Rates based on publicly available information available here.
Compare Scotiabank Exchange Rates
The below comparison table makes it easy to calculate the Total Cost you are being charged from

Scotiabank and the possible savings of using other FX providers.
The table below shows Scotiabank exchange rates with the percentage of margin being charged from the market mid-rate when they were published.
Scotiabank Exchange Rates (% margins to midrate)
Note that the above carded rates from Scotiabank do not include any special BER deals that we have negotiated with some providers. To find these deals you can use the above exchange rate comparison tool.
---
BER partners are the best & most trusted FX brands
We also compare popular bank exchange rates