Scotiabank Compare & Save - Canadian dollar to Saudi riyal
Exchange rates can vary significantly between different currency exchange providers, so it's important to compare Canadian dollar (CAD) to Saudi riyal (SAR) rates from different sources before making a conversion.
The above Scotiabank Rate Calculator and Comparison Table makes it easy to compare the Total Cost you are being charged on Scotiabank loonie to riyal currency rates and the possible savings of using various providers.
---
In this loonie to riyal (CAD/SAR) rate guide: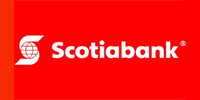 Scotiabank at a glance
Scotiabank is a Canadian multinational bank and a leading financial institution in North and South America. The bank offers a wide range of financial products and services to individuals, businesses, and institutions, including banking, investment, and insurance services.
One of the financial products offered by Scotiabank is wire transfers. Wire transfers are a secure and fast way to transfer funds between banks in different countries. With Scotiabank wire transfers, you can send money to over 100 countries in a variety of currencies.
When you get a quote for your Wire Transfer from Scotiabank on their website or in-app, you can also see the Scotiabank exchange rate, but it can be difficult to then calculate how much markup from the market rate you are being charged.
Our research shows that on average, Scotiabank profit margin for foreign exchange rates is somewhere between 3 - 8%, depending on the amount you're sending, where you're sending it to and which currency will be received.
While all banks in Canada charge this markup, the extra amount being charged is much higher than it would be with a global money transfer specialist.
Multi-Vendor Quote
We can help you get an even better deal when sending a Large International Money Transfer.
Click below for the Request Quotes form and enter your transfer details (BER account required).
Save time and money - fewer websites to visit and you get a much better exchange rate & service.