TorFX at a glance
TorFX is a leading provider of foreign exchange services, offering very competitive currency exchange rates for international money transfers and an unrivalled personal service to private individuals and companies with a foreign currency exchange requirement. TorFX is based in the United Kingdom and Australia.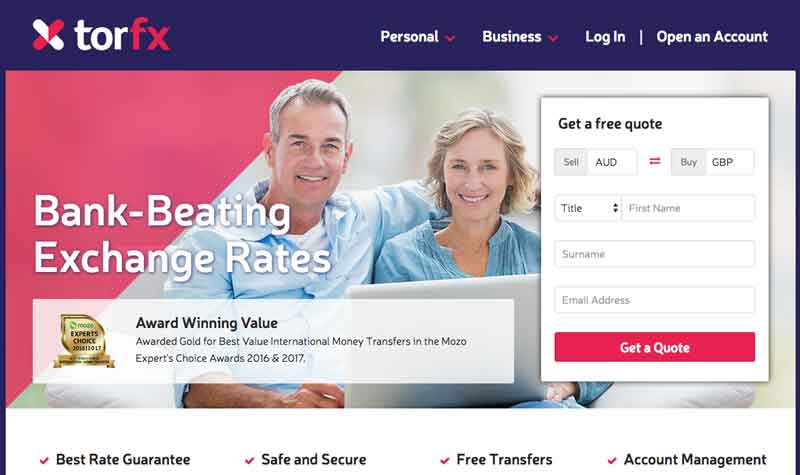 TorFX provides market best rates & service with no fees or bank charges on all transfers - talk directly to TorFX dealers or book & track your transfers online. TorFX have our highest level of customer satisfaction.
The TorFX UK team are based in London and Cornwall and process in excess of 3 billion Pounds in foreign exchange and international payments per annum. They are known for both the quality of their customer service and exchange rates.
The TorFX Australia team are based in Queensland and provide a great dedicated service and competitive exchange rates both when trading online and over the telephone.
Personalised service
TorFX 's approach to customer service is what sets it apart from its competitors. Over and above the competitive pricing and the value for your money, it is the uncompromising service levels that make them stand apart.
Right from the initial query through each step of the transaction, TorFX 's account managers get involved in understanding each customer requirement and executing it all to its completion. Every case is different and treated as such.
How it works?
After you register with TorFX the steps to transfer are as follows:
1. TorFX will call you to verify your identity and set up your online account, you can then monitor the rate in real-time.
2. When you are ready to do your transfer you simply login into the TorFX website and enter the details (Currency, Amount & Beneficiary Account) and then transfer the FROM amount to the TorFX bank account.
3. TorFX then send the money to the beneficiary foreign currency account at much better rates than you would get using your own bank.
4. TorFX notifies you when the funds have been received into the destination account.
In the complex world of foreign exchange, handholding a customer and their transactions are of utmost importance. Treating every transfer as a relationship extends beyond getting the best exchange rate. Ensuring the transfer is done smoothly and satisfactorily, and effected in the set timeline and the client feedback taken have been standard steps in a TorFX relationship.
Loading comparison rates...
More about TorFX and the Services they offer
TorFX is a UK-based foreign exchange broker that specializes in providing currency exchange and international payment services to individuals and businesses. The company was founded in 2004 and is headquartered in Penzance, Cornwall, UK.
TorFX operates primarily online and offers its services to customers in the UK, Europe, Australia, and other regions around the world. The company has a team of more than 500 employees, including experienced currency traders, account managers, and customer service representatives who work to provide a high level of support and personalized service to each customer. TorFX is regulated by the Financial Conduct Authority (FCA) in the UK, which helps to ensure that the company adheres to strict standards of financial conduct and customer protection.
The following are some of the services offered by TorFX:
Currency exchange: TorFX provides currency exchange services to individuals and businesses, allowing them to exchange currency at highly competitive rates.

Forward contracts: TorFX offers forward contracts that allow customers to lock in an exchange rate for a future transaction, protecting them from fluctuations in the currency markets.

Market updates and analysis: TorFX provides regular market updates and analysis to help customers stay informed about the latest currency trends and developments.

International payments: TorFX allows customers to make international payments and transfers in a variety of currencies, using a secure and efficient online platform.

Personalized service: Each customer is assigned a dedicated account manager who can provide personalized advice and support, helping to ensure a smooth and successful transaction.
TorFX – How do their Exchange Rates and Services Compare?

Based on our research and review of customer feedback, here are some pros and cons to consider when considering TorFX as a foreign exchange provider:
Pros:
Competitive exchange rates: TorFX offers highly competitive exchange rates, often beating the rates offered by traditional banks and other foreign exchange providers.

Fast and efficient transactions: TorFX prides itself on providing a fast and efficient service, with most transactions processed within 1-2 business days.

Dedicated account manager: Every customer is assigned a dedicated account manager who can provide personalized advice and support, helping to ensure a smooth and successful transaction.

Excellent customer service: TorFX has received high marks from customers for its friendly and helpful customer service, which is available via phone, email, or online chat.
Cons:
Limited currency options: While TorFX offers a wide range of major and minor currency pairs, it may not have as many currency options as some other foreign exchange providers.

Potential fees: Although TorFX does not charge any transaction fees or commissions, it is possible that customers may be charged fees by intermediary banks or payment providers.

Limited physical presence: TorFX is an online-only provider, which means that customers may not have access to physical branches or in-person services.
TorFX Money Transfers
---
BER partners are among the best & most trusted FX brands