What's in this Monaco currency guide?
What currency is used in Monaco?
The official currency of Monaco (country code: MC) is the Euro, with symbol € and currency code EUR.
Things to know about the Euro
The euro (ISO: EUR) is involved in slightly more than 30% of all foreign exchange deals, and as such, is the world's second most traded currency, behind the US dollar.
The euro is the currency of the eurozone (officially called the 'euro area'), which consists of 19 of the 28 member states of the European Union, and is used by almost 350 million Europeans. It was introduced in January 1999.
Of all the thousands of exchange rates that exist in the world, the euro-to-US dollar exchange rate is the most actively traded, or most 'liquid'.
Since its introduction, the euro's lowest value against the dollar came in October 2000 when EUR/USD hit lows of 0.8231. The currency was strongest in July 2008, shortly before the worst stage of the 2007-2009 financial crisis, when EUR/USD reached 1.6038.
There are currently more than twenty nations and territories which peg their currencies to the euro, the largest of which is Denmark.
The euro banknotes and coins
The Euro is issued in banknotes of €5, €10, €20, €50, €100, €200, and €500, and in coins of 1 cent, 2 cents, 5 cents, 10 cents, 20 cents, 50 cents, €1, and €2.
The banknotes feature images of historical and cultural figures from across the European Union, while the coins depict each member country's unique design. The design of the Euro banknotes and coins is intended to be easily identifiable and difficult to counterfeit.
An example Euro banknote
Travel money for Monaco
Save money and time by Ordering your Euro online from Travelex, you get better rates and can pick up the EUR cash locally or even on travel day at the airport.
Another popular option is to use a Pre-paid Travel Card. Your Debit/Credit Card provider will charge you 2% from market mid-rate, but your bank may also charge an extra 3% as an "Overseas Transaction Charge" plus "Overseas ATM" fees for withdrawing cash.
For card purchases if offered a choice of currencies always select to Pay in Euro otherwise you may get much worst exchange rates.
Travel Ideas and Money Tips for Monaco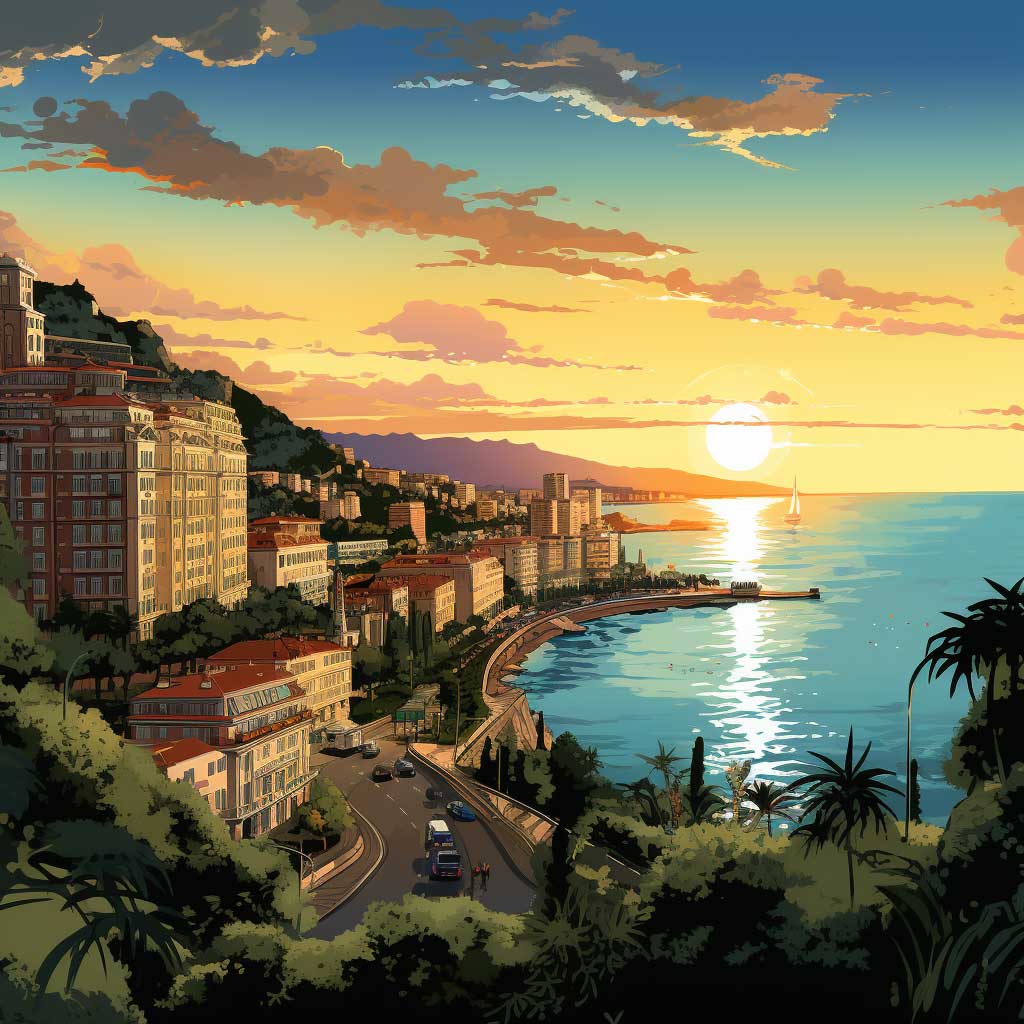 Welcome to the opulent principality of Monaco, a playground for the world's elite and a haven for luxury experiences. Whether you're planning to try your luck at the Casino de Monte-Carlo, attend the Grand Prix, or soak in the Mediterranean sun, here's a handy money guide for your visit.
1. Currency:
Official Currency: Euro (€, EUR).
2. Cash or Card:
Credit/Debit Cards: Monaco is very card-friendly. Most establishments, from luxury boutiques to restaurants, accept major international credit and debit cards. Visa and MasterCard are most widely accepted, but many places also accept American Express.

Cash: While card payments are prevalent, it's a good idea to have some cash for smaller establishments, tips, or unexpected needs. ATMs are widely available.
3. Budgeting:
Luxury Traveler (€500+/day): Stay in plush hotels like Hôtel de Paris, dine in Michelin-starred restaurants, and indulge in exclusive experiences.

Mid-Range Traveler (€200-€500/day): Enjoy comfortable hotels, dine in good restaurants, and partake in activities like yacht tours.

Budget Traveler (€100-€200/day): While Monaco is renowned for luxury, budget travelers can find some more affordable accommodation options and eateries, especially if booked in advance.
4. Tipping:
Tipping is not mandatory in Monaco, but it's appreciated for good service. A tip of around 5-10% at restaurants is customary for excellent service. For services like taxis, rounding up the fare is a polite gesture.
5. Banking and ATMs:
Monaco has a range of local and international banks. ATMs are abundant and easy to locate. Ensure you're aware of transaction fees your bank might charge for international withdrawals.
6. Exchanging Money:
It's advisable to exchange a small amount of money before you arrive. However, you'll find numerous currency exchange offices in Monaco. Note: It's usually more economical to withdraw money from an ATM than to exchange cash.
7. VAT Refund:
If you're a resident outside of the EU, you may be eligible for a VAT refund on significant purchases when you leave the EU. Ask retailers about "Tax-Free Shopping" and ensure you get the necessary documentation.
8. Scams and Safety:
Monaco is one of the safest places globally, with a very low crime rate. However, as with any tourist destination, be cautious and aware of your surroundings. Always ensure your belongings, especially in crowded areas.
9. Prices:
Coffee: €4-€10
Meal at a mid-range restaurant: €30-€70
Luxury dining experience: €150+
Public transport ticket: €2
Museum Entry: €10-€15
10. Final Tips:
Inform your bank of your travel dates to ensure uninterrupted card service.
While Monaco is synonymous with luxury, deals and value offers can be found if you research and book in advance.
If attending major events like the Grand Prix, it's advisable to book accommodation and services well in advance, as prices can surge.
Monaco, with its blend of glamour and Mediterranean charm, offers a unique travel experience. A little planning regarding your finances can ensure a smooth and delightful stay in this sun-kissed principality. Safe travels!
EUR/USD Market Data
The below interactive chart displays the EUR/USD trend and UP▲ DOWN▼ HIGH▲ LOW▼ alerts
1
EUR
=
1.0887
We compare provider deals to this wholesale mid-market rate. Read more
USD
---
---
Frequently Asked Questions
What currency should I use in Monaco?
The domestic currency in Monaco is the Euro.
What is the Euro currency code and symbol?
The three letter currency code for the Euro is EUR — symbol is €.
Which countries use the Euro?
It is the domestic currency in &nbsp Eurozone, Aaland Islands, Andorra, Austria, Belgium, Croatia, Cyprus, Estonia, Finland, France, French Guinea, French Southern Territories, Germany, Greece, Guadeloupe, Vatican City, Ireland, Italy, Luxembourg, Malta, Martinique, Mayotte, Monaco, Montenegro, Netherlands, Portugal, Reunion, Saint Barthelemy, Saint Martin, Saint Pierre and Miquelon, San Marino, Slovakia, Slovenia and Spain.
Is the Euro a closed currency?
No, the Euro is freely available and convertible. See guide: What is a closed currency?
What are equivalent amounts of USD and EUR?
USD
EUR
$ 1

€

0.9186
$ 5

€

4.5930
$ 10

€

9.1860
$ 20

€

18.37
$ 50

€

45.93
$ 100

€

91.86
$ 250

€

229.65
$ 500

€

459.30
$ 1,000

€

918.60
$ 2,000

€

1,837
$ 5,000

€

4,593
$ 10,000

€

9,186
$ 20,000

€

18,372
$ 50,000

€

45,930
$ 100,000

€

91,860
USD
EUR

$

1.0887
€ 1

$

5.4435
€ 5

$

10.89
€ 10

$

21.77
€ 20

$

54.44
€ 50

$

108.87
€ 100

$

272.18
€ 250

$

544.35
€ 500

$

1,089
€ 1,000

$

2,177
€ 2,000

$

5,444
€ 5,000

$

10,887
€ 10,000

$

21,774
€ 20,000

$

54,435
€ 50,000

$

108,870
€ 100,000
More amounts
Converted at USD/EUR interbank rate, compare Send Money and Currency Exchange exchange rates.
Send Money to Monaco - Best Rates
To get a good (and fair) exchange rate when sending money to Monaco you need to find and compare exchange rates for International Money Transfers (IMTs).
The available FX rates for sending money abroad can be very different to the mid-market (wholesale) rate which you see reported online and in the News.
You should especially compare your own bank's exchange rates to those available from Money Transfer specialists to see how much you can save - we make that calculation easy in the below table.
---
Get a better deal for foreign transfers to Monaco
When sending money to Monaco it's important to compare your bank's rates & fees with those we have negotiated with our partner money transfer providers. To get a better deal you should follow these 4 simple steps :
Open an account with a BER reviewed FX provider (id docs may be required)
You specify the local or Euro amount you want to transfer
Make a local currency domestic transfer for the requested amount to the provider's bank account in your country
Once your funds are received by the provider the converted EUR amount will be transfered to the recipient account you specify in Monaco.
Use the above calculator to compare the exchange rates of FX specialist providers rates versus your bank's standard rates you can hopefully save around 5% and maybe more - end result is more Euro deposited into the recipient bank account and less margins and fees kept by the banks!
Expat Money & Business Guide to Monaco
Managing your money effectively while living and working abroad can be challenging, but there are several steps you can take to ensure that your finances are in order.
By following these tips and managing your money effectively, you can reduce financial stress and enjoy your experience living or doing business in Monaco.
Guide to Business and Expat Life in Monaco
Monaco, the glittering gem of the Côte d'Azur, is renowned for its opulence, casinos, Grand Prix, and as a haven for the world's wealthy elite. If you're considering a business venture or expat life in Monaco, here's a guide to navigating its unique landscape.
1. Business Climate:
Language: French is the official language. However, due to the international population, English, Italian, and other languages are commonly spoken, especially in business contexts.

Business Etiquette: Monaco's business community is formal and places significant importance on reputation. Networking is crucial, and building relationships can open many doors.

Economic Landscape: Monaco boasts a diverse economy with strong sectors in tourism, real estate, finance, and shipping.
2. Living in Monaco:
Accommodation: Space is at a premium in this tiny state. Property prices and rents are among the highest in the world, with luxurious apartments and penthouses dominating the market.

Cost of Living: Monaco is synonymous with luxury. While certain amenities can be pricey, the principality offers benefits like low taxes and high-quality services.

Healthcare: Monaco offers top-tier medical services. The healthcare system is modern, with well-equipped hospitals and clinics. It's advisable to have comprehensive health insurance.

Education: There are excellent schools, including the International School of Monaco, which offers an English language curriculum.
3. Culture & Lifestyle:
Local Culture: While Monaco is cosmopolitan, it retains a distinct Mediterranean culture, placing importance on family, leisure, and celebrations.

Cuisine: Reflecting its Mediterranean setting, Monegasque cuisine offers dishes like "barbajuan" (stuffed pastries) and "fougasse" (a nutty pastry). The culinary scene is diverse, with numerous fine dining options.

Entertainment & Leisure: From the famous Monte Carlo Casino to the Opera and the Grand Prix, Monaco offers world-class entertainment. Yachting and watersports are also popular.
4. Transportation:
Public Transport: Due to its small size, Monaco is easily walkable. However, there are regular bus services and a boat-bus.

Driving: Given the compact nature of Monaco, traffic can be dense. Parking spaces are limited and often expensive.
5. Networking:
Expat Groups: Monaco's expat community is active, with various clubs and organizations catering to diverse interests.

Local Partnerships: Building connections with local businesses and attending events, such as the Monaco Yacht Show, can be instrumental in establishing oneself professionally.
6. Challenges:
Space Constraints: Everything in Monaco is compact, from available land to parking spaces.

Entry Barriers: High living costs and stringent residency requirements can be obstacles for some.
7. Safety:
Monaco is one of the world's safest countries with a high police presence and advanced security measures.
8. Residency & Business Regulations:
To live in Monaco, one needs to apply for a residence permit, which requires opening a local bank account and proving financial self-sufficiency.
For business, there are various legal structures to choose from, with specific regulations and benefits for each.
Conclusion:
Monaco offers an unmatched blend of luxury, security, and business opportunities. While it presents certain challenges, such as its high cost of living, the benefits of networking, tax advantages, and lifestyle often make it an attractive destination for expats and business professionals. Thorough preparation and local guidance are key to successfully integrating into Monegasque life.
Managing your finances in Monaco
Here we list some key points for expats and businesses to consider when managing financial dealings in Monaco:
Understand Euro currency exchange rates: Exchange rates can have a big impact on your finances, so it is important to keep an eye on the EUR exchange rate and consider using a currency exchange service or a credit card that does not charge foreign transaction fees to get the best exchange rate.

Use a local Euro bank account: A local EUR bank account can make it easier for you to manage your finances and pay bills while you are in Monaco. It may also be more convenient to use a local EUR bank account to make purchases and withdraw cash.

Research local laws and regulations: It is important to understand the local laws and regulations that apply to financial transactions in Monaco. This can help you avoid legal issues and ensure that you are complying with local requirements.

Consider the tax implications: It is important to understand the tax implications of living or doing business in Monaco. This can help you plan your finances and ensure that you are paying the correct amount of tax.

Seek financial advice: If you are unsure of how to manage your finances in Monaco, it is a good idea to seek the advice of a financial professional who is familiar with the local financial system. This can help you make informed decisions and avoid financial pitfalls.
More Country Guides (A-Z)